The finswimming sport season for 2018 has been designed already! The 2 big events are the Senior Finswimming World Championships 2018 that this year got to the 20th edition, will be held in Belgrade in July 14th-21st, where two years ago the Junior European Finswimming Championships took place. The second one is the Junior Finswimming European Championships 2018, scheduled on July 28th-August 04th in the Turkish capital, Istanbul.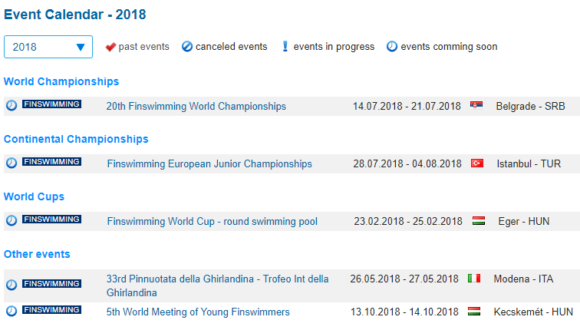 Then as you can see in the calendar upon, only one round of the World Cup is present. The Hungarian one, in Eger.
RUMORS
There are now the other rounds requests for approval by the finswimming commission:
World Cup
January 27th-28th Poznan – Poland
March 24th-25th Lignano Sabbiadoro – Italy (to be decided by BOD)
April 13th-15th Leipzig – Germany (not sure)
October the Golden Final in Phuket – Thailand (not sure)
World Cup Master June 1st-3rd in Palma de Mallorca – Spain
We will wait for the next news…so stay tuned!