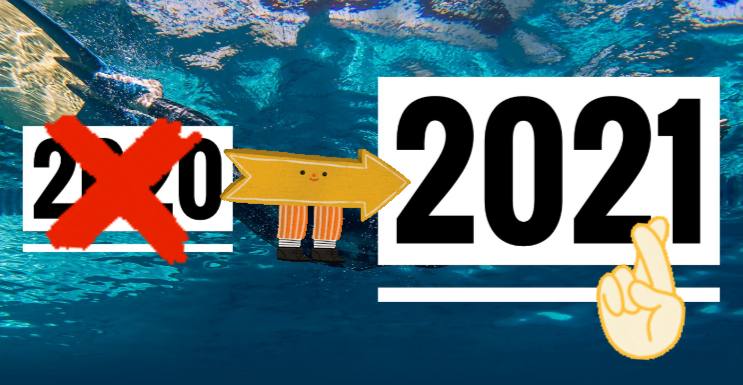 2020 was a year that many think should be crossed off the list of years. In fact, it was a disastrous season at a competitive level. The international championships stopped in January, after the First Round of the Finswimming CMAS World Cup took place in Eger (Hungary).
After a few days, almost the entire planet has started to shut down everything. Offices, public places, stadiums, schools, gyms and especially swimming pools, indicated as one of the worst places for COVID. Only in May, when governments realized that the restrictive measures began to work, did they decide to open again the activities little by little.
So the summer went like this, almost as if nothing had happened. By now, however, all confederal competitions had been frozen, if not postponed. The Finswimming World Championships, scheduled in Tomsk, have been postponed to next year. Even the Olympics canceled! And the World Games in Birmingham (USA), which interest us more than the Olympic Games, moved from 2021 to 2022.
By the way…all around all the beaches were full of people, open discos (at least in Italy), swimming pools too. And so we arrive at the end of September, and inevitably the curve has started to rise steeply. At the end of October again, general lock down in Europe. Few events, few people could train…

So now at the end of the year, we could see only some Finswimming National Championships held in the last month.
But something different happened this year, while we were avoided to compete in swimming pools.
Then, our friend from Germany Tim Willruth took the Finswimming World Ranking to another level. He presents data with a personalized black graphics, at the moment with an Instagram page called Finswimming statistics. We suggest you to follow his page, he deserves it!
For the first time ever, an online CMAS paid course has been organized by Greece, attended by various people all around the World, but we don't know details about it.
Let's see how 2021 could look like. If everything will be good, the CMAS Finswimming calendar for 2021 has been scheduled and it will look like this.
Here the list of rounds about the CMAS Finswimming World Cup that will be held in Poland, Hungary, Italy, Germany, USA and the last one in Egypt.
WC ROUND 1 January 30th – 31st 2021 – Poznan (Poland)
WC ROUND 2 February 26th-28th 2021 – Eger (Hungary)
WC ROUND 3 March 19th-21th 2021 Lignano Sabbiadoro (Italy)
WC ROUND 4 April 23th-25th 2021 Leipzig (Germany)
WC ROUND 5 May 28th-30th 2021 Coral Springs (USA)
WC GOLDEN FINAL July 27th-31st 2021 Sharm el-Sheikh (Egypt)
For what concerns the CMAS Finswimming International Championships, this year we will see 4 different events, like the following list:
Junior World Finswimming Championships June 13th-19th 2021 Lignano Sabbiadoro (Italy)
Senior World Finswimming Championships July 3rd-9th 2021 Tomsk (Russia)
Finswimming International Students competitions July 7th-11th 2021 Tomsk (Russia)
Open Water Finswimming Championships Senior + Junior + Master San Andrés Island (Colombia)
Here the official CMAS Calendar: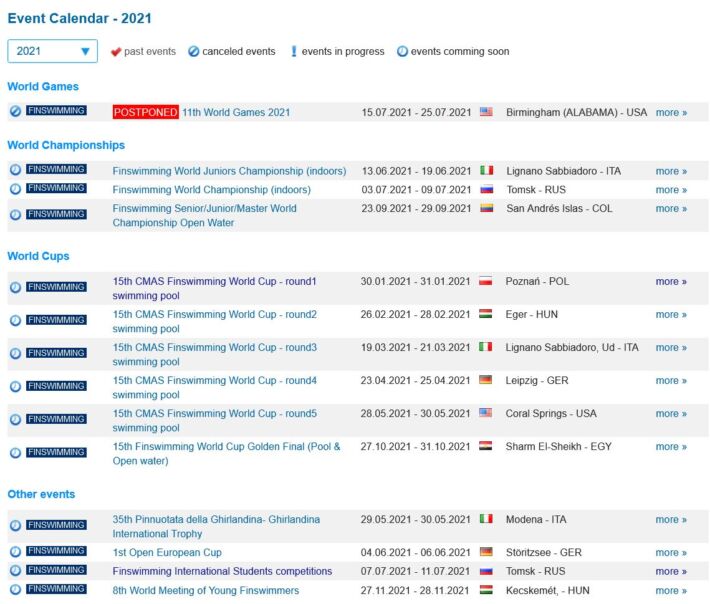 Let's keep fingers crossed and let's see how 2021 will be!
Help us! Send information and results about Finswimming events and championships!