This is an old interview that Finswimmer Magazine made to one of the best Deutsch finswimmers from the 90s-00s, called Sven Gallasch. During the years it has been lost but we found it back. Enjoy!
1) Hello Sven, you was a very good Finswimmer for a lot of years, tell us about your long sport career.
First of all thank you Dave for the opportunity of this "interview" and especially for supporting Finswimming with your homepage. This one step to bring up the level of awareness of Finswimming.
I started my Finswimming (FS) carrier in 1988, before this I was a classical swimmer but then I was looking for some more speed. Four years later I became a member of the German national team for the first time and had my first World Championship in Athens 1992. I was really impressed and have seen exciting competitions and world records. 1993 the European Championship in Moscow, 1994 the World Championship in China and I guess China was a highlight for everybody who was there and could feel the spirit inside and outside the brand new pool facility. The atmosphere during the finals was amazing due to thousands of spectators. I was lucky to be in a final next to a local boy from China, the audience almost went crazy and was cheering their athletes like hell. I still get goose pimples when I remember this. In 1993 at the World Games in Den Haag I won my first medals, I became third over the 200 surface and 100 immersion. Afterwards I had good results at European Championships and World Championships but it took a while until I would win a medal on an international Finswimming competition again. During this time I wasn't focused enough on Finswimming and then in 1997 I ask myself what I want or if I should quite Finswimming. Luckily I didn't stop swimming and the objective was born to win again a medal and break some national records. After a good World Championship in Cali 1998 I won in the same year the bronze medal in the 4x2km relay in front of the island of San Andres at the Long Distance World Championship. The salty ocean water, the high temperatures inside and outside the water and the waves of the ocean made this competition a challenge for everybody. In 1999 it was again Athens and the same pool where the FS highlight of the year took place. I made a good competition, especially about the 200 surface and my team-mates and I became third in the 4×100 relay.
Then I had my best two years. In 2000 on Mallorca I became vice world champion over the 200 surface. Qualified as third for the final I was so nervous prior the final like never before and the race actually started not that good for the first 100m but then on the last 50m I took advantage of my good and hard training and hit the wall in second place. My first individual podium since 1993. Wow, this was a feeling!
All this was topped in 2001. First I set a new national record over the 800 surface. In Akita I had my third World Games and this time I stood on top of the podium over the 400 surface and enjoyed for the first time "my own" national anthem with a very nice and heavy gold medal around my neck. This wasn't the last strike in Akita because on top we won the bronze medal over the 4×100 relay. If I'm not mistaken it was Akita as well where the Russian guys swam under 2:30min the first time ever.
Only a few days after the World Games the European Championship started in Eger and here I wanted to make everything right because I knew or at least I was convinced I'm in best shape ever.
The 200 surface I finished in third place and get the bronze medal. Due to the fact that my team-mate Andreas became second two Germans have been at the podium at the same time and this is still a very unique experience for me that I will never forget. The 400 surface I finished "only" in fourth place but here finally I broke the German national record which I narrowly missed before at the German Championship. Patras 2002 was then my last year, I started and finished my FS carrier in Greece after 10 years being part of the German national team, that I felt was always an honour.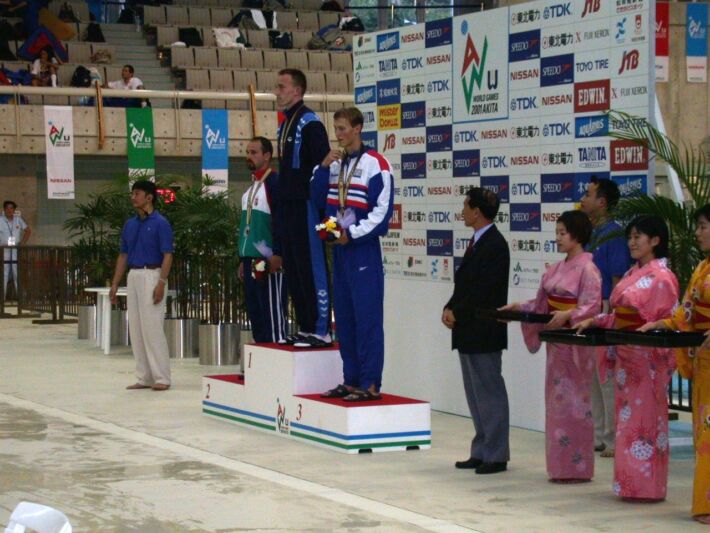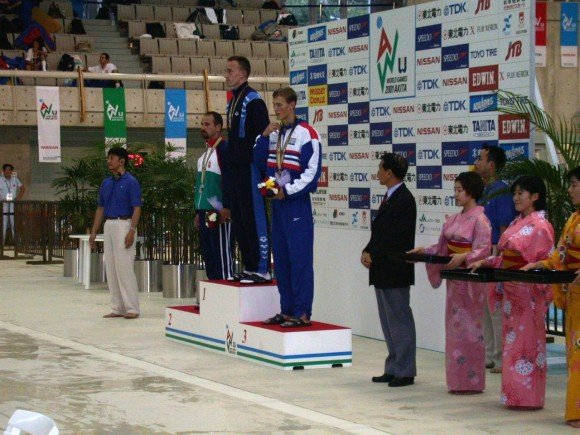 2) What do you do now in your life?
After I have successfully graduated as industrial engineer in 2005 I work as a management consultant and project manager. Currently I'm engaged in Saudi Arabia and have as well the opportunity to travel around in the Middle East where live is much different as we are used to it in Europe. Did I tell you that I'm married? In 2007 I said "yes" to a lovely girl in whom I fall in love in 2003, so fortunately the seven year itch is already behind us. 🙂
3) Do you follow Finswimming again? Who is your favourite Athlete (past or present)?
It's easy to me to answer this question with a "yes". In 2005 I volunteered for the chairman of the German Finswimming commission and was responsible for the competitions etc. in Germany and led as well the German national team. So no doubt I still follow any news about Finswimming and I'm still surprised that a World Cup will take place this April in Dubai. Because Dubai is close to Saudi Arabia I may come around, watch the competition and maybe I meet some old friends.
My favourite athlete was Konstantin Koudriaev from Russia, hopefully some other beside me still knows about him. In my opinion he was far ahead of the rest of the world during his time and his records existed for a long time. Outside the pool Konstantin was a very nice guy and friend and I was impressed by his style of swimming and his attitude regarding Finswimming. So yes, for me he was a kind of an idol and maybe not only for me.
4) Which is your best competition memory? Speak about it…
It's hard to name a single memory. In fact I talked about it already earlier especially when I described the years 2000 and 2001. But in general the best feeling you have when all privations and effort for the sport pay off. I had these in the two mentioned years where everything have fit together and from where I have one of my best memories. I really enjoyed traveling around with the German team, we had so much fun and share so many fantastic experiences. Actually you could think that Finswimming is a sport for loners but my opinion still is that this is a team sport. How would you do your training without your sport club, without your coach? What about the team that is cheering anybody when he or she prepares at the starting block? This is team spirit and sometimes you have to provide your team with the best you're able to, in the relay. …and the relays are always the highlight of every competition.
5) If you could, what would you do to make Finswimming more famous?
Just to make it clear, the answers for this question are purely my very own opinion.
First of all and to be realistic we should bury the dream to become part of the Olympic Games.
The effort to conduct a Finswimming competition besides the classical swimming is too high and maybe the FINA don't like the idea having us beside them because we are the fastest in the water and it would be our show then.
The speed of Finswimming and the elegance of how we swim is unique and these kind of arguments we have to sell to the media, to the audience, to everybody around the world. Because of this the decision for Bi-fins needs to be reviewed. One of the objectives of Bi-fins was to involve more nations in Finswimming because its much easier to learn and the equipment is not that expensive. Let's have a look in the result list of the last championships. Did more nations get involved? Do we have more athletes coming to championships? How can we bring more nations and more athletes to Finswimming via Bi-fins when even the mono-style is forbidden in Bi-fins? Mission failed!
Bi-fins at the end has nothing to do with Finswimming and the mono-fin. We have seen such small participation in Bi-fins that even to set the final was absurd.
Can somebody explain where the big difference is in comparison with life-saving and classical swimming? It's either equipment or the style of swimming that are the same and we should not do something known. Let's focus on what we can, where we good in, where we are special. Let's do Finswimming with the mono-fin as fast as we can! Let's do "Speed Swimming"! This will astonish the people!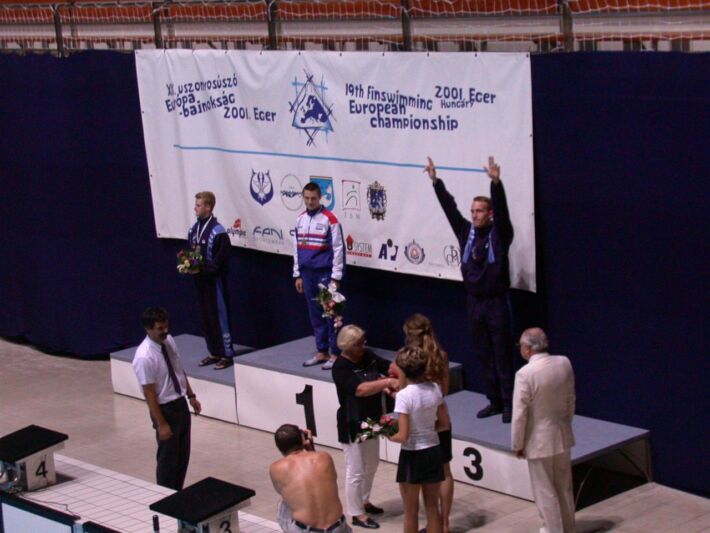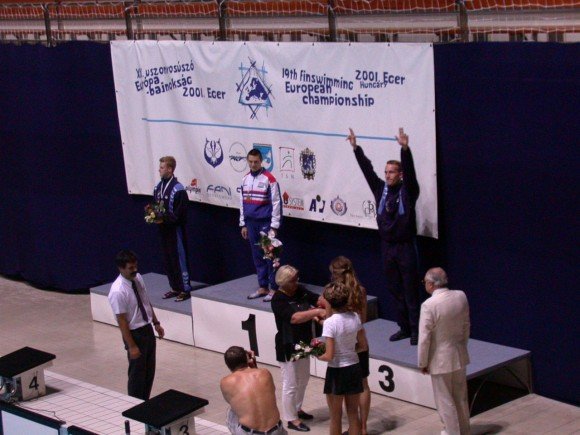 6) Finswimming environment…did you like it? Are you always in contact with your old friends?
Yes, I'm still in contact with my old or better 🙂 my former Finswimming buddies and I really like it to meet with them. But the contacts I have are more or less only for Germany. Social networks like Facebook would be perfect to create a international network for Finswimming and the benefit out of it will come for sure in the future.
7) Do you have a Web Site? Do you think that internet could improve Finswimming in the World?
An own website I don't have but I guess you know at least the homepage of the German Diving Federation (VDST) and the relevant Finswimming section. Thank god there are homepages like finswimmer.com.
I believe in the future we need to have a consolidated competition calendar anywhere and therefore every federation should publish their events also in English.
I have no doubt that the internet will have a strong influence on Finswimming. There are so many great opportunities to release news, share information or broadcast videos. We have created in Germany a professional video spot for Finswimming, to raise the interest and to do promotion. Since 2007 this 60 seconds spot "Finswimming Germany" is as well available on youtube.
Platforms like Zaplive.tv give us the opportunity to have our own Finswimming TV channel and do live streaming from competitions very easy.
8) Finswimming in Germany, your country…speak about the actual situation over there…
Germany has and had always great swimmers. Currently we have a champion and a world record holder again. But it gets more and more difficult to sustain this level of due to increasing other interests of young people. Real talents are very rare and if you have one it's often not easy to get the one convinced to exploit the full potential because there is no real benefit of Finswimming. Finswimming in Germany is a pure amateur sport and I believe we need to centralize our talents and need regional or personal sponsorships to support and to motivate out best athletes.
9) Finswimming & Youngs! What would you tell to a young fellow that is starting Finswimming? Which suggestions would you give to him?
It depends. 🙂
If you do Finswimming just for fun then just do it.
But if you want to achieve something, if you take Finswimming serious as a competitive sport then don't waste time. Set your objectives, make them visible, try to keep a training diary about what you did and what times you have achieved in training and competition. This will help a lot and will make you psychological stronger because you know what you did and what you're capable of. But don't forget the fun. Luckily I always had fun with my team mates of my club or with the national team, regardless if during training, competition or beside the sport.
If you have your first competitions watch the "old" guys. What do they do and when, for warming up and in preparation for the competition. How do they maintain their equipment and the mono-fins?
Of course you can ask them and for sure they will give you some hints.
10) Tell us whatever you want (free topic)
I wish all Finswimmers a nice and successful season 2010.
Take care and have fun
Sven
Help us! Send information and results about Finswimming events and championships!