The Italian Championship of Underwater Rugby 2018 will be in Milan, Sunday February 25. The event was open to all spectators.
The 2018 edition of the Italian Absolute Underwater Rugby Championship was held in Milan at the Piscina Saini on Sunday 25 February. The winning Italian Champions Firenze Rugby Subacqueo (FIRS) won the Neapolitan team NESIS Pesca Apnea (silver medal) for 3 to 1. The Rugby Sub Milano (Organizing club) completed the podium of the event), which, in the final for the third and fourth place, has imposed on the Monsub for 18 to 1. The Championship was directed by Gianluigi Montefiori.
LA FIRS SI LAUREA SQUADRA CAMPIONE D'ITALIA DI RUGBY SUB 2018
Milano ospita le finali del campionato italiano di Rugby Subacqueo domenica 25 Febbraio dalle 10 alle 16. L'evento è aperto al pubblico.
Si è svolta domenica 25 Febbraio u.s., a Milano, presso la Piscina Saini, l'edizione 2018 del Campionato Italiano Assoluto di Rugby Subacqueo. Ad aggiudicarsela sono stati i Campioni Italiani uscenti di Firenze Rugby Subacqueo (FIRS), che in finale hanno battuto la compagine napoletana NESIS Pesca Apnea (medaglia d'argento) per 3 a 1. Ha completato il podio la Società Rugby Sub Milano (Società organizzatrice dell'evento), che, nella finale per il terzo e quarto posto, si è imposta sul Monsub per 18 a 1. Il Campionato è stato diretto da Gianluigi Montefiori.
CLASSIFICA CAMPIONATO ITALIANO DI RUGBY SUBACQUEO 2018
FOGLIO PARTITE CAMPIONATO ITALIANO ASSOLUTO DI RUGBY SUBACQUEO 2018
More info: FIPSAS / Facebook Rugbysub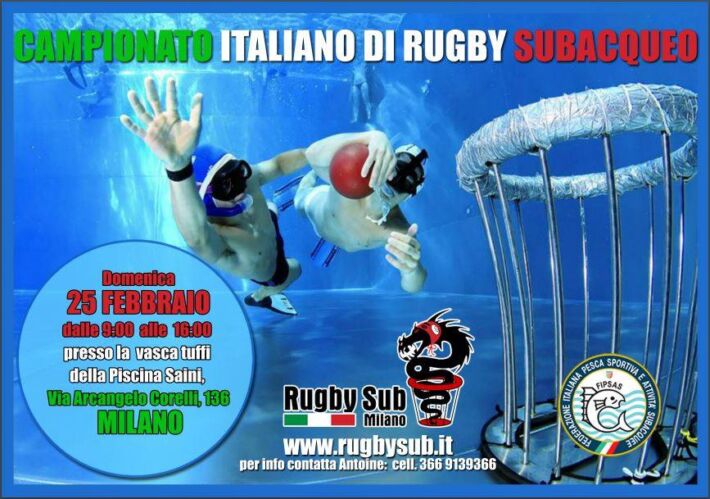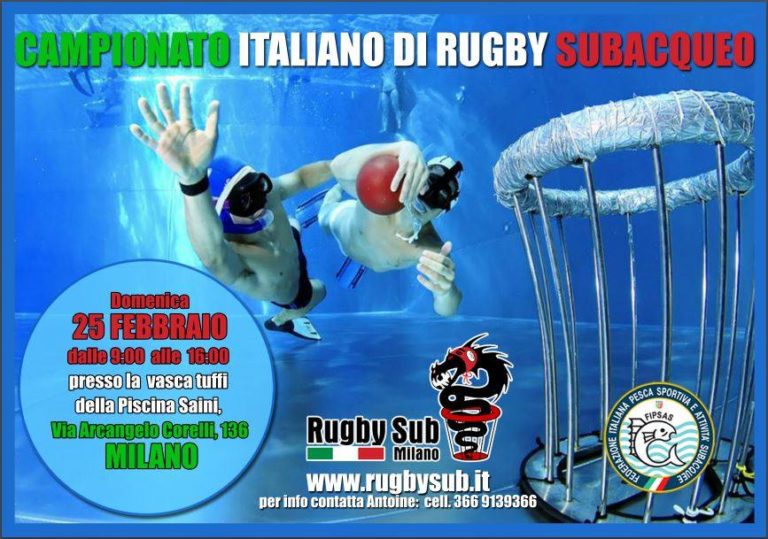 Help us! Send information and results about Finswimming events and championships!