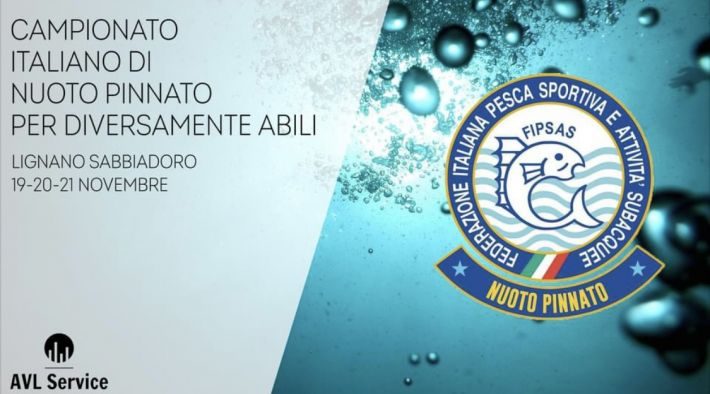 F.I.P.S.A.S., through the Underwater Activities and Finswimming Sector and in collaboration with the A.S.D. Pinna Sub San Vito, announces and organizes the 10th Italian Finswimming Championship DIFIR, for Disabled Athletes, which will be held in Lignano Sabbiadoro (UD), at the Bella Sports Village Italy (pools of 25 and 50 m), from 19 to 21 November 2021.
REPORT:
In Lignano Sabbiadoro Fipsas also brings universities to the water
Once again the protagonists are the disabled. In water. Fipsas, the Italian Federation of Sport Fishing, Underwater Activities and Finswimming, will bring the search for talent and disability to the pool. And it will do so in Lignano Sabbiadoro (Ud), on 20 and 21 November, with "talentopInnato": an event that includes a long series of events. On Saturday the Italian freediving and fin swimming championships for "disabled" will start, to which will be added the world record attempts in dynamic freediving (with and without fins) by Fabrizio Pagani from Terni and Ilenia Colanero, from Abruzzo They launch. There will also be the presentation of the first edition of the University World Cup in finswimming, which will be held in Lignano Sabbiadoro, on April 1st and 2nd 2022. An event, the latter, decidedly important, which will sanction the entry of finswimming within the world of Fisu (International University Sports Federation), with the possibility of being included in the program of the Universiade. An objective that Fipsas and Cusi (Italian University Sports Center) are pursuing with great determination. On the occasion of "TalentopInnato", however, the chance for some athletes from the University of Udine and students from the schools of Lignano and San Vito al Tagliamento to take part in an internship under the supervision of the technical staff of Fipsas. The latter initiative, in which student-athletes will be able to try their hand at the practice of fin swimming, is an integral part of the Sport and Health project aimed at promoting basic sports activities and seeking talent
Help us! Send information and results about Finswimming events and championships!