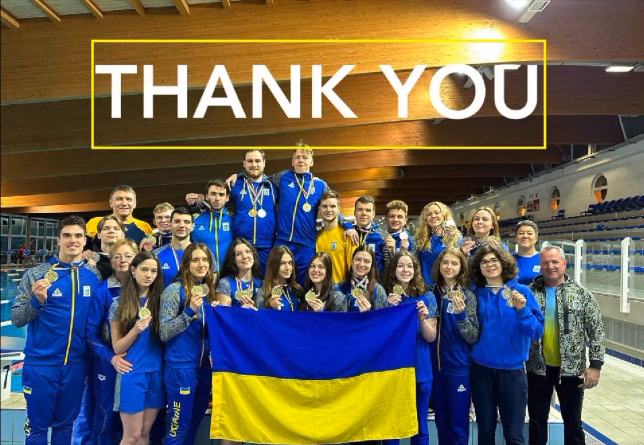 This is an open letter/video by Ukrainian finswimmers. It was originally published on this page: https://www.facebook.com/watch/?v=1955532181448013 on April 6th 2023.
Dear President Anna Arzhanova, dear Board of Directors, dear National federations,
Sport is one of the most powerful ways for us Ukrainians to be seen, to speak out and to be heard.
February 24th 2022 has changed life of EVERY Ukrainian athlete. Russia started an unprovoked, aggressive, full-scale war against Ukraine.
We strongly believe that the return of Russian and Belarus athletes to the international competitions in CMAS is unacceptable.
On the 6th of March 2022 CMAS suspended Russian and Belarus athletes from participating in international competitions, talking about FairPlay and solidarity. But what has changed from now? Has the meaning of Fair Play changed? Or are you not in solidarity with Ukraine anymore?
Life of Ukrainians hasn't improved and hasn't become easier. War is still going on, people are still being killed, thousands of homes destroyed by Russians. So what has changed?
Russia uses athletes and its representatives as a state of sport propaganda – during Russian Finswimming championships this year we can see medals with the Z sign – Russian evil symbol of war.
Many Russian athletes are in military, who are supported and financed by Russian army.
That's why approval of Russian and Belarus athletes sends devastating signals. We can't tolerate their participation on sports events, when it despises all the values of peace and freedom, not to mention the true values of sport.
Sport cannot be out of politics when a big cynical war is on!
More than 231 Ukrainian athletes and coaches have been killed by Russians, 343 sports facilities were damaged or ruined, including the swimming pools in Kharkiv and Severodonetsk, where top-finswimmers used to train.
There is currently no reason to loosen up sanctions.
We are standing for respect of the true sport values! We are standing for peace!
We urge you not to let Russian and Belarus athletes to participate in international competitions!
We urge you to support Ukraine on the sports front!
We are waiting for answers!
Спорт для нас, українців, є одним із найпотужніших способів бути поміченими та бути почутими.
24 лютого 2022 змінило життя кожного українського спортсмена. Росія розпочала неспровоковану, агресивну, повномасштабну війну проти України.
Ми глибоко переконані, що повернення російських і білоруських спортсменів на міжнародні змагання в CMAS є неприпустимим.
6 березня 2022 року CMAS відсторонив російських і білоруських спортсменів від участі в міжнародних змаганнях, говорячи про FairPlay і солідарність. Але що змінилося зараз? Чи змінилося визначення Fair Play? Чи ви вже не солідарні з Україною?
Життя українців не покращилося і не стало легшим. Війна все ще триває, росіяни все ще вбивають українців та нищать наші домівки. Так що змінилося?
Росія також використовує спортсменів і своїх представників як державну спортивну пропаганду – цього року під час чемпіонату Росії з плавання в ластах ми можемо побачити медалі зі знаком Z – російським жахливим символом війни. Багато російських спортсменів є військовими, яких підтримує та фінансує російська армія.
Більше того, велика кількість спортсменів та тренерів Росії підтримують дії своєї армії на території України.
Ось чому схвалення російських і білоруських спортсменів посилає нищівні сигнали. Ми не можемо толерувати їхню участь у спортивних заходах, коли ця країна зневажає всі цінності миру та свободи, не кажучи вже про справжні цінності спорту (допінг-скандали).
Спорт не може бути поза політикою, коли точиться велика цинічна війна!
Понад 231 українських спортсменів і тренерів були вбиті росіянами, 343 спортивні об'єкти було пошкоджено або зруйновано, включно з басейнами в Харкові та Сєвєродонецьку, де тренувалися одні з найкращих плавців.
Наразі немає жодних підстав для послаблення санкцій!
Ми виступаємо за повагу до справжніх спортивних цінностей! Ми виступаємо за мир та свободу України!
Ми закликаємо не допускати російських і білоруських спортсменів до міжнародних змагань!
Ми закликаємо підтримати Україну на спортивному фронті!
Help us! Send information and results about Finswimming events and championships!