Not only did Senanszky win both Women's Bi Fin competitions at The World Games in Wroclaw in 2017 – both with a new World Record – in July 2018 she also dominated the same distances at the Finswimming World Championships by winning two individual gold medals and one bronze in relay.
Petra Senanszky's career started at the age of 8, when her parents took her to a Debrecen diving club. She won her first World Championship title in 2011 and has since won 10 more. Her first appearance at The World Games was impressive: she was one of the first competitors to win gold at the Games in Poland, on July 21, 2017, and the both World Records she achieved in Wroclaw still stand today!
ATHLETE OF THE YEAR VOTING OPEN
The online voting for The World Games Athlete of the Year 2018 has now been opened! A record number of candidates, 25, are competing for the title. Last year, Sport Climbing World Record holder and The World Games 2017 champion, Reza Alipourshenazandifar (IRI) won the Athlete of the Year title with 90,790 votes just before Powerlifter legend Larysa Soloviova (UKR) with 90,036 votes.
The 25 candidates from 25 The World Games sports have been proposed by their international federations based on extraordinary achievements in 2018 or for several years. Everyone can now vote once per day during January for their candidate online.
After the first round, lasting until 15th January, the ten athletes or teams with the highest ranking will move into the final. These candidates will take the votes already cast into the final round. The winner will then be determined on 31st January at midnight UCT.
All The World Games Athlete of the Year 2018 candidates in alphabetical order (by surname):
Tove Alexandersson (SWE) Orienteering
Rudi Browning (AUS) Air Sports
Burkina Faso, Women's team (BUR) Floorball
Marina Chernova &Georgii Pataraia (RUS) Gymnastics
Nour El Tayeb & Ali Farag (EGY) Squash
Renato Filippin (SUI) Aikido
Dominique Fontenette (USA) Flying Disc
Janja Garnbret (SLO) Sport Climbing
Germany Men's Canoe Polo team (GER) Canoe
Greece Women's team (GRE) Beach Handball
Ke Leng (CAM) Boules Sports
Sara Lopez (COL) Archery
Luca Lucaroni (ITA) Roller Sports
Sananzade Orfan (UKR) Kickboxing
Anna Poliakova (RUS) Sumo
Sandra Sanchez (ESP) Karate
Petra Senanszky (HUN) Underwater Sports
Suzanne Struik (NED) Korfball
Switzerland Men's U23 team (SUI) Tug of War
Patrick Thomas (GER) Fistball
Jennifer Thompson (USA) Powerlifting
Maximiliano Ulloa (USA) Ju-jitsu
USA Men's team (USA) Lacrosse
Svetlana Vinnikova (RUS) Muaythai
Dmitry Zharkov & Olga Kulikova (RUS) DanceSport
The World Games is a multi-sport event staged every four years by the International World Games Association under the patronage of the International Olympic Committee. The 11th edition of The World Games will be held in Birmingham, Alabama, USA, 15-25 July 2021. 3,600 athletes from over 30 sports and 100 countries will take part in the Games.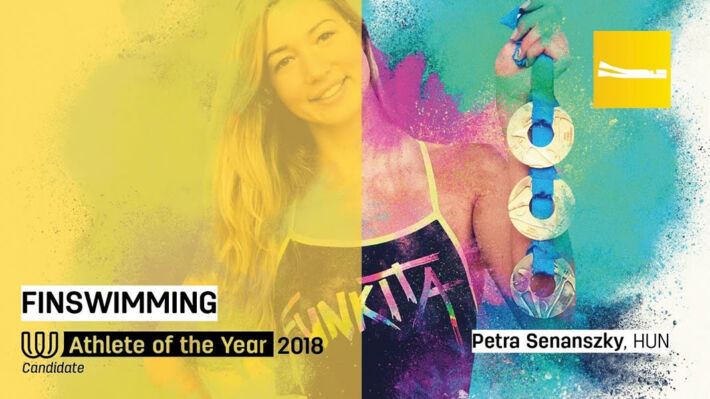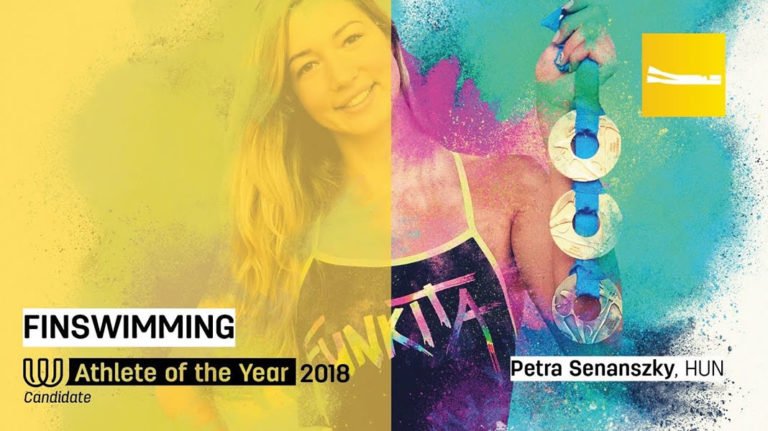 Source: https://www.theworldgames.org/
Help us! Send information and results about Finswimming events and championships!