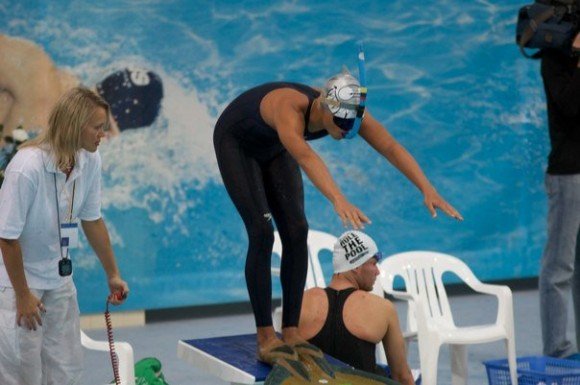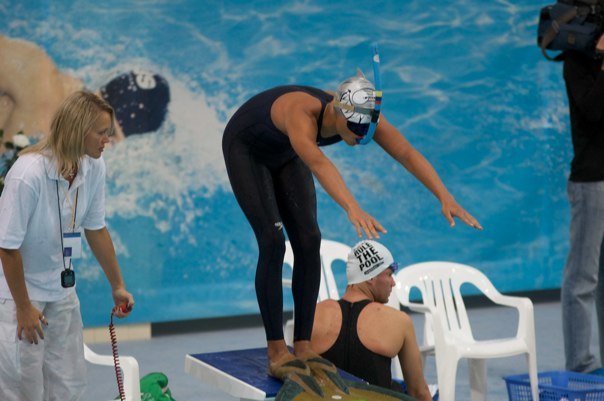 Hello Juan, please speak a little about yourself, where do you live and what do you do in your life?
Good morning, my full mane is JUAN FERNANDO OCAMPO LOZADA, I am 15 years old but I will have my 16 birthday on January 5, Ilive in Cali, Colombia and I am member of the Colombian Finswimming club named: Tiburones, that means SHARKS. I will finish high school in June 2011 and i would like to enter Law School here in Colombia.
In 2009 you was one of the 8 best Finswimmers in 200mts at World Championships in St. Petersburg, although you are only 15yo. How did you feel when you saw your time? And did you expected that results?
Well actually the first day in the relay I swam around 1'24″3 so when I finish the race in 1'25″50 in the individual race I was not surprised, but I was really really surprised to be in the final! This was my first World Championship and I was in the final with all the best swimmers in the World, to be honest I was very scared, but it was a nice experience.
When and how did you discover finswimming? Did you practice any sport before?
I'm swimming since I was very young but not with fins, then I saw my brother in competitions and trainings and I was in love with Finswimming! So when I was 10 years old I started Finsswiming in the club BARRACUDAS with 15 kids of my same age, I begun little competitions with bifins and sice 2 years ago I started with monofin in the competitions.
Which are your targets for your future in this Sport?
I want to be World Champion in Finswimming, I want to hold the World Record in 200mts surface, cause it is my favorite distance, I know that is very hard but this is my dream!!! And this year in the next junior World Championship I want to win 200mts surface and I want to help my team in both relays too.
Tell us a your training day. How many time do you train per week?
Usually i have training since 4pm until 7pm every day, from Monday to Saturday, but in holidays we also swim two times per day, but now because my school is imposible for me. Also this year I will start to go at the gym with the swimmers of my team: Juan Jose Hernandez, Mauricio Fernandez and my brother Alvaro Polo, I am looking forward to do this cause I never do gym before in my life!
Let's speak about your brother, Alvaro Hugo Polo, did he helped you in Finswimming to get your results?
Since I was a little boy my brother helped me all the time, he teached me how to swim my races and to improve my performance helping me to do the correct tecnique. During big competitions he talk to me a lot cause I am very scared before jump to the pool, and that is one of my weakness, I'm very scared before swim. Anyway he is a great rule model inside and outside the pool.
Let's have some fresh idea from a young Finswimmer as you are, if you could, what would you do to let Finswimming grow up?
Well I think we need more sponsorship from the state, in Colombia it is very dificult cause by example to go to Russie, we had to pay our trip, so many good swimmers can't go to international competitions because the money! In South America I think we need much more competitions, we need countries like USA need to start in Finswimming, I want a panamerican competition with good level, like european competition with all the great countries like: Italy, Russie, Hungary, Greece, France. And finally I think we need to do all over the World much more publicity and advertising cause this is a beautifful sport and I am sure that if people from the World knows this sport every one will be surprise cause is so nice to swim with a monofin and is also cool to watch!
Finswimming took you all over the World, did you get a lot of friends? Are you always in contact with them?
I just start to have international competition in 2009, so Ii had the oportunity to travel to 4 CMAS World Cups and of course the World Championship in Russie, but to be honest I dont talk to much, I am very shy so I hope in the future meet a lot of people from all over the world.
Usually what do you think when you train? And during competitions?
During training i think to improve every training, i try to swim correct tecnique and focus on the next competition, and during the competition i think to swim fast and try to do my best in every race! even if i dont win but if i fell i swim 100% so im also happy.
Tell us what you want (free topic)
First I want to give thanks to you for this oportunity, I just want to add that I really love this sport, 2 years ago i didnt make times to be in the Junior World Championship in Colombia and I was very sad, but now after Russie I am very motivated to make all my dream come true, so I hope I will have a long carrer in finswimming, to meet some swimmers friends and travel a lot.
Then thank for the interview and I want you to know that I enjoy all the interviews that you did, I read all of them, about Andrea Rampazzo, Andrea Nava, Sven Lutzkendorf, Denes Kanio, my brother… so thanks!!!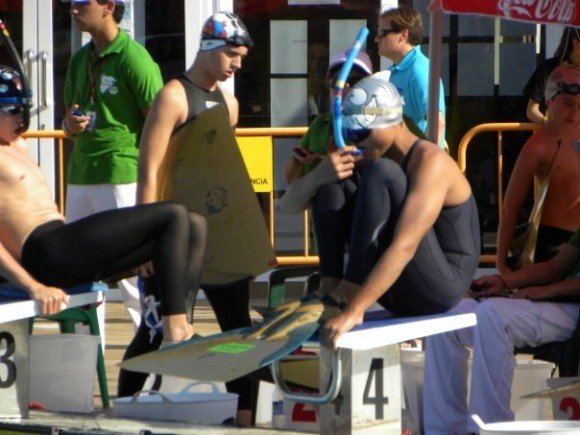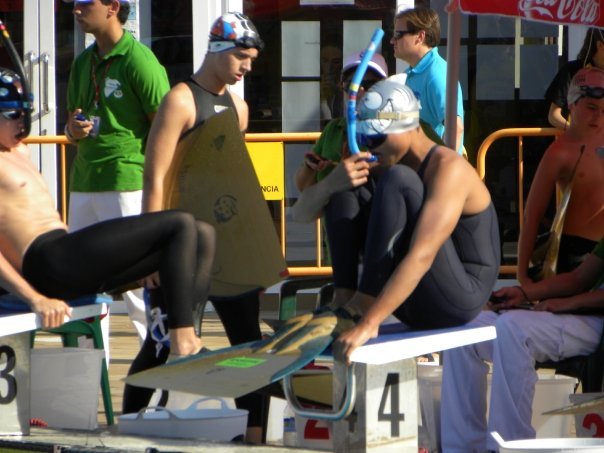 Ciao Juan, parlaci un po' di te stesso, dove abiti e cosa fai nella vita?
Buongiorno, il mio nome completo è JUAN FERNANDO OCAMPO LOZADA, ho quindici anni ma compirò i 16 il 5 Gennaio 2010, abito a Cali, Colombia e faccio parte della squadra di Nuoto Pinnato chiamata: Tiburones, che vuol dire SQUALI. Finirò le superiori nel luglio 2011 e vorrei entrare nella scuola di Legge qui in Colombia.
Nel 2009 sei stato uno degli 8 migliori atleti al Mondo nei 200sf ai Campionati Mondiali di San Pietroburgo, sebbene tu abbia solamente 15 anni. Come ti sei sentito quando hai visto il tempo? E ti aspettavi questo risultato?
A dire la verità il primo giorno nella staffetta ho nuotato 1.24.3 quindi non ero molto sorpreso quando ho visto il tempo 1.25.50 nella gara individuale, lo ero soprattutto per essere entrato in finale! Era il mio primo campionato del mondo ed ero in finale con gli atleti più forti del pianeta, in verità ero un po' impaurito, ma è stata una bella esperienza.
Quando e come hai scoperto il Nuoto Pinnato? Hai praticato altri sport in passato?
Ho sempre praticato nuoto classico da quando ero piccolo, poi ho visto mio fratello in gara e negli allenamenti, e mi sono innamorato del Nuoto Pinnato! Avevo 10 anni quando ho iniziato, nel club BARRACUDAS con altri 15 ragazzi della mia età, nuotavo piccole gare con le Bipinne e solo 2 anni fa ho iniziato ad usare la Monopinna in gara.
Quali sono i tuoi obiettivi sportivi per il futuro?
Voglio diventare Campione del Mondo di Nuoto Pinnato, e voglio avere il record del Mondo nel 200mts, poichè è la mia gara preferita, so che sarà molto difficile ma è il mio sogno!!! E ai prossimi Campionati mondiali Giovanili voglio vincere i 200mts e aiutare la Colombia in Staffetta.
Raccontaci una tua giornata tipo. Quante volte ti alleni alla settimana?
Di solito mi alleno dalle 16.00 alle 19.00 dal Lunedì al Sabato, ma nelle vacanze nuotiamo anche due volte al giorno, ma ora per la scuola sarebbe impossibile per me. Quest'anno inizierò ad andare in palestra con altri ragazzi della mia squadra: Juan Jose Hernandez, Mauricio Fernandez e mio fratello Alvaro Polo, starò attendo perchè non ho mai fatto palestra in vita mia!
Parliamo un po di tuo fratello, Alvaro Hugo Polo, ti ha aiutato ad ottenere i tuoi risultati?
Mio fratello mi ha sempre aiutato, da quando ero piccolo, me ha insegnato a nuotare in gara e a migliorare l amia tecnica. Prima delle gare importanti mi parla molto poichè sono sempre spaventato, e questo è uno dei miei punti deboli, la paura prima della gara. Comunque lui è un modello positivo, sia in piscina, sia fuori.
Ora vediamo se hai qualche idea fresca per il nostro sport, se tu potessi, cosa faresti per far crescere il Nuoto Pinnato nel Mondo?
Penso che abbiamo bisogno di più appoggi economici dallo Stato, in Colombia è molto difficile perchè, per esempio per andare a San Pietroburgo in Russia, abbiamo dovuto pagare il viaggio di tasca nostra, e molti grandi atleti non possono partecipare alle Gare Internazionali per via dei soldi! Poi, penso che in Sud America abbiamo bisogno di molte più gare, e abbiamo bisogno che nazioni con gli Stati Uniti d'America inizino a prendere questo sport sul serio, vorrei un Campionato Panamericano di alto livello, come succede per l'Europa con stati come: Italia, Russia, Ungheria, Grecia, Francia, ed infine penso che ci sia bisogno di più pubblicità nel Mondo, perchè questo è davvero un magnifico sporte sono sicuro che se la gente potesse vederlo, ne rimarrebbe stupita dalla velocità e dalla bellezza del Nuoto Pinnato!
Il Pinnato ti porta in giro per il Mondo, hai tanti amici? E sei sempre in contatto con loro?
Ho iniziato solo nel 2009 ad andare alle Gare Internazionali, quindi ho avuto l'opportunità di partecipare solamente a 4 CMAS World Cup e ai Campionati Mondiali Assoluti in Russia, ma per essere onesti non parlo molto, sono moltooo timido ma spero di conoscere tante persone in futuro.
Di solito a cosa pensi quando ti alleni? E durante le gare?
Durante gli allenamento penso solamente a migliorarmi, provo a migliorare la tecnica e mi focalizzo sempre sulla gara successiva, e durante le gare cerco sempre di nuotare più veloce possibile e fare del mio meglio i ntutte le gare! Anche se non vinco ma penso di essere al 100% so cono contento ugualmente.
Dicci quallo che vuoi (argomenti libero)
Primo: grazie per questa opportunità che mi hai dato con l'intervista, vorrei aggioungere che amo davvero questo sport, 2 anni fa non sono riuscito ad ottenere i tempi per partecipare ai Mondiali Giovanili in Colombia e per questo ero molto triste, ma dopo la Russia sono davvero motivato a fare realizzare il mio sogno, quindi spero di avere una lunga carriera nel Nuoto Pinnato, incontrare tanta gente nuova, fare amicizie, e viaggiare molto.
Grazie ancora per l'intervista, e ti voglio dire che leggo sempre tutte le interviste che crei, su Andrea Rampazzo, Andrea Nava, Sven Lutzkendorf, Denes Kanio, mio fratello…quindi grazie di tutto!!!
Help us! Send information and results about Finswimming events and championships!