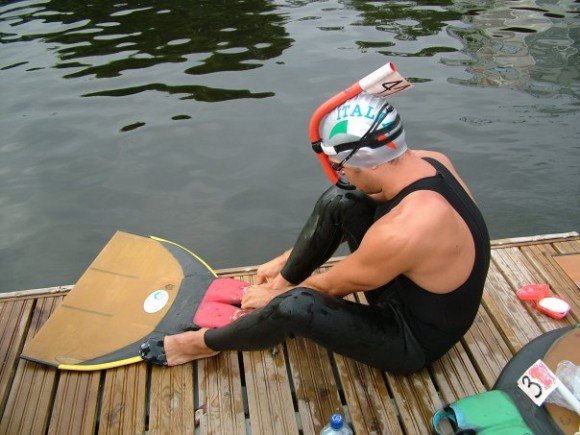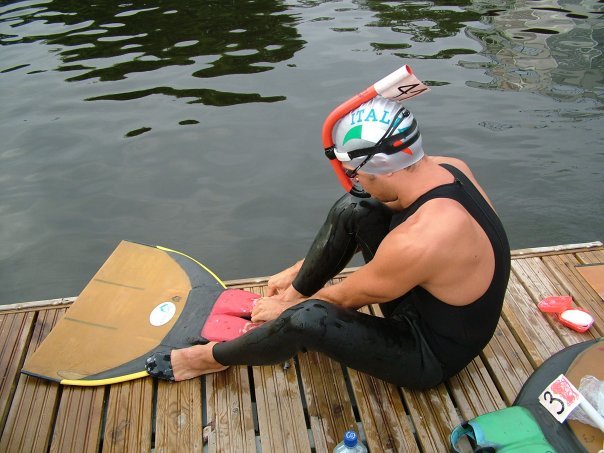 Name:
Simone
Surname:
Mallegni
Gender:
M
Date of Birth:
03.01.1982
Place of Birth:
Camaiore
Nationality:
Italian
City of Residence:
Camaiore
State of residence:
Italy
Occupation:
Carabinieri Militar Group Swimmer
Start practice Finswimming (year):
1992
Race start Finswimming (year):
1993
Club:
Militare Club:Centro Sportivo Carabinieri – Civil Club: ADS Belle Arti Roma.
You train in 25mt or 50mt Swimming Pool?
For the most time 25mt, but when is necessay also in 50mt.
Who is your coach?
Marco Carosi
Favorite race:
The one that makes me have a good time!
Favorite athlete (past or present, also as a reference point):
My team mate Paolo Vandini
Your best results (summary):
My first result in 1998 when I was Young on 1500mt, then some Youth and Senior Naional Teams, but on my sport curriculum is the Gold Medal at World Championships in Russia 20km.
National, European or World Records (also passed):
No
Do you prefere individual events or relays?
Relays, I love the Team Spirit
Do you prefere races in the pool or long distance?
Long distance competitions!
What is your specialty (distance, surface or immersion)?
20000 NP
What type of fin/monofin use?
Rocket in Swimming Pool and Paolo Vandini ones in Long Distance
What other sports have practiced before?
Classical Swimming and Ski
Other sports now?
yes
If so what?
Since 2006 I practice Triatlon but not in agonistic way. I use it also to prepare Long Distance Competitions.
Year of entry into the National Team (Senior or Youth, leave blank if you never entered):
Senior National Team: 2007
National Team last year (if you're still leave blank):
Do you have a website or that of your team?
No
Hobbies:
Underwater Immersions e travels, and I always try to make them match each other.
Other comments:
A particular thanks to the Carabinieri Corp that recruited me and so it was possible to make me Finswim.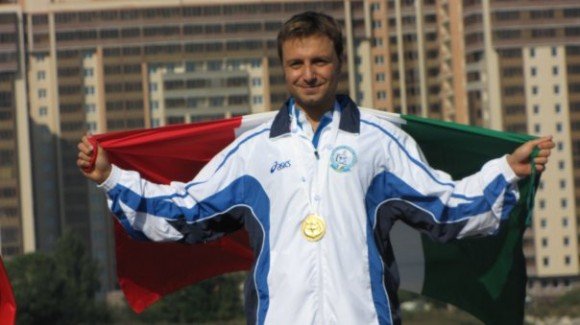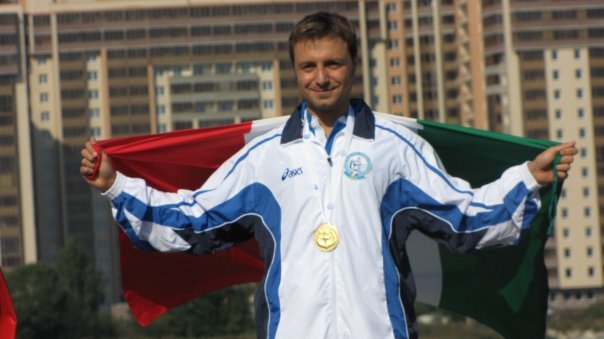 Nome:
Simone
Cognome:
Mallegni
Sesso:
M
Data di nascita:
03.01.1982
Luogo di nascita:
Camaiore
Nazionalità:
italiana
Città di residenza:
Camaiore
Stato di residenza:
Italia
Occupazione:
in forza presso il Centro Sportivo Carabinieri- Sezione Nuoto.
Inizio pratica Nuoto Pinnato (anno):
1992
Inizio gare Nuoto Pinnato (anno):
1993
Club:
Club Militare:Centro Sportivo Carabinieri – Club Civile: ADS Belle Arti Roma.
Ti alleni in vasca da 25mt o da 50mt?
Principalmente in vasca da 25mt, ma quando la preparazione lo richiede anche in vasca da 50mt.
Chi è il tuo Allenatore?
Marco Carosi.
Gara preferita:
La gara che mi fa divertire.
Atleta preferito (passato o presente, inteso anche come punto di riferimento):
il mio compagno di squadra Paolo Vandini.
Vostri migliori risultati (riassunto):
Il mio primo titolo italiano nella categoria giovanile risale al 1998 sui 1500mt, poi varie convocazioni in nazionali giovanili e assolute, ma nel mio curriculum sportivo il risultato più importante è di sicuro il titolo del Mondo conquistato quest'estate in Russia nella 20km.
Record Nazionali o Europei/Mondiali (anche passati):
Preferite le gare individuali o staffette?
Le staffette, mi piace molto lo spirito di squadra che si crea.
Preferite le gare in piscina o di fondo?
Le gare di fondo
Quale è la vostra specialità (distanze,superficie o immersione)?
Dopo il risultato ottenuto non posso non dire la 20km.
Che tipo di pinne/monopinne usi?
In piscina le rocketfin, in acque libere le Vandini.
Quali altri sport avete praticato in precedenza?
A livello agonostico nuoto e sci.
Praticate altri sport attualmente?
si
Se si quali?
Dal 2006 pratico a livello amatoriale Triatlon. Lo utilizzo anche come preparazione per le gare di fondo.
Anno di ingresso nella Squadra Nazionale (Assoluta o Giovanile, lasciare in bianco se non sei mai entrato):
Nazionale assoluta 2007
Ultimo anno in Squadra Nazionale (se siete ancora lasciare in bianco):
Avete un vostro sito internet oppure quello della squadra?
no
Hobbies:
Immersione e Viaggi, e cerco sempre di farli coincidere.
Altri commenti:
Un particolare ringraziamento è rivolto all'arma dei Carabinieri che mi ha permesso di arruolarmi e conseguire i risultati ottenuti nel Nuoto Pinnato.
Help us! Send information and results about Finswimming events and championships!