The 3rd round of the 2019 Finswimming World Cup for Clubs was be in Aix-en-Provence, France on 19th-21st April 2019 under the organization of The Pays d'Aix Natation (PAN) Club under agreement of CMAS and FFESSM.
5,010 Followers, 336 Following, 1,027 Posts – See Instagram photos and videos from Finswimmer Magazine (@finswimmermagazine)
[wpdevart_countdown text_for_day="Days" text_for_hour="Hours" text_for_minut="Minutes" text_for_second="Seconds" countdown_end_type="date" end_date="19-04-2019 00:00″ start_time="1553519053″ end_time="0,1,1″ action_end_time="hide" content_position="center" top_ditance="10″ bottom_distance="10″ ][/wpdevart_countdown]
RESULTS SESSION 1
RESULTS SESSION 2
RESULTS SESSION 3
RESULTS SESSION 4
NEW: PRIZE MONEY: A prize of 500€ will be awarded only to the winners of the 200bi and 400Sf races (M/W).
The prize will be doubled (1000€) if a new World record is broken on these races.
The price will be paid by bank transfer only.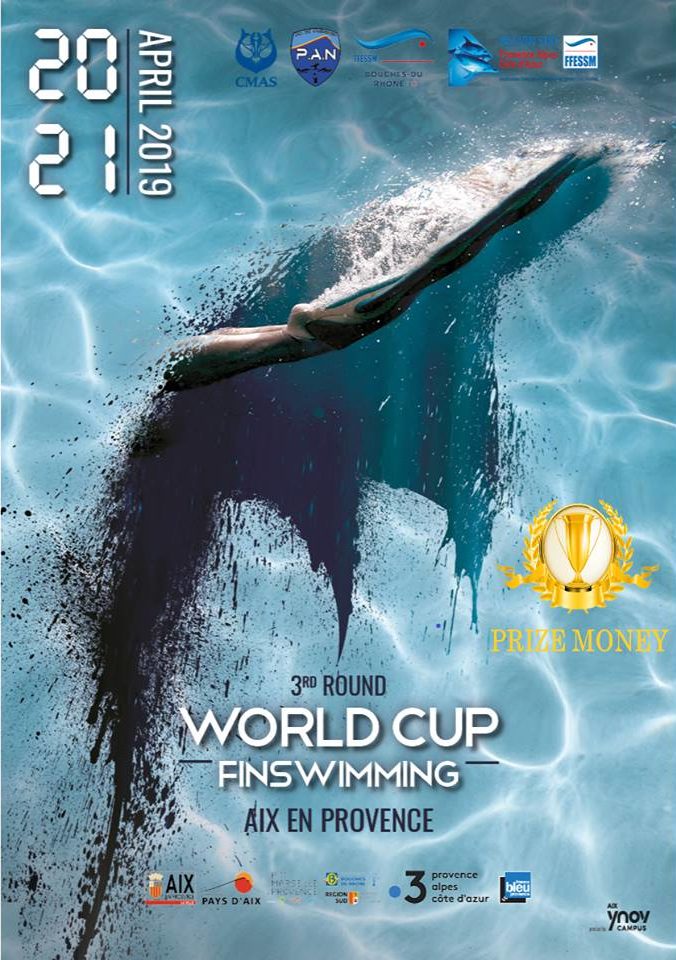 Already almost two reports from the French television FRANCE 3 Provence-Alpes Côte d'Azur have been broadcasted, for your comfort we share them here.
Links: CMAS / Nage Avec Palmes FFESSM / Aix-en-Provence (P.A.N.)
Help us! Send information and results about Finswimming events and championships!