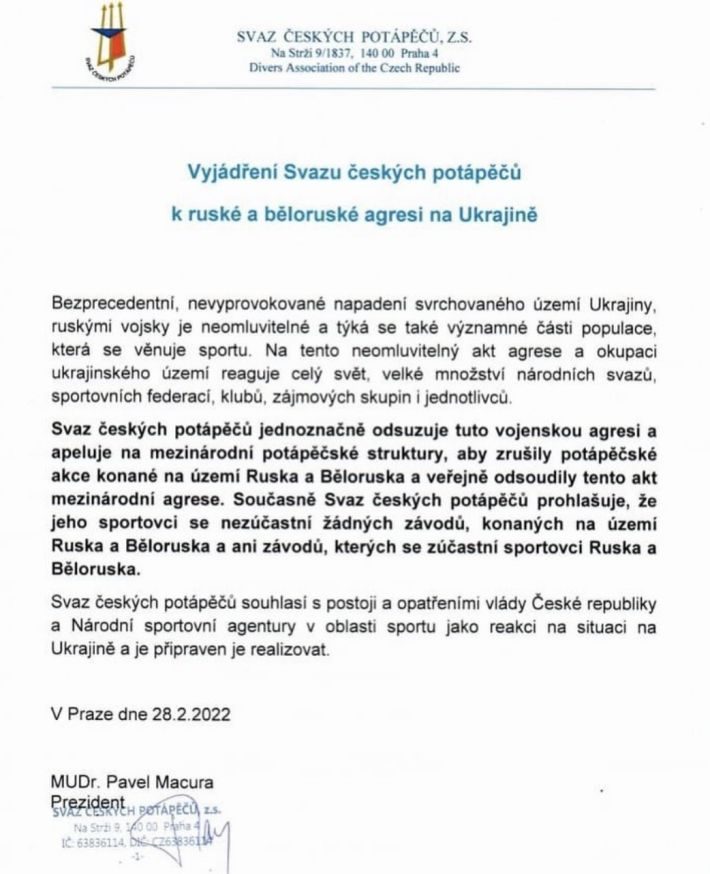 The Czech Undewater Federation has published an open letter in which it declares, abound all, that every event in Russia or Belarus will be avoided, and also events in which Russians or Belarusian take part.
Statement of the Union of Czech Divers on the Russian and Belarusian aggression in Ukraine.

The unprecedented, unprovoked invasion of the sovereign territory of Ukraine by Russian troops is inexcusable and also affects a significant part of the population who are engaged in sports.

The whole world, a large number of national federations, sports federations, clubs, interest groups and individuals are responding to this inexcusable act of aggression and occupation of Ukrainian territory. The Association of Czech Divers unequivocally condemns this military aggression and calls on international diving structures to cancel diving events in Russia and Belarus and publicly condemn this act of international aggression. At the same time, the Association of Czech Divers declares that its athletes will not take part in any competitions held in Russia and Belarus, nor in competitions in which athletes in Russia and Belarus will take part.

The Association of Czech Divers agrees with the positions and measures of the Government of the Czech Republic and the National Sports Agency in the field of sports in response to the situation in Ukraine and is ready to implement them.
Help us! Send information and results about Finswimming events and championships!