Finswimmer Magazine met her, Elena Smirnova, just some days ago during the International Finswimming competition called "Pinnuotata della Ghirlandina 2013" in Modena (Italy). If you don't know she yet, she comes from a little town in Estonia, near Tallinn, and she was able to get the Gold Medal on the 400 imm female during the Finswimming Senior European Championships in Lignano Sabbiadoro (Italy) on August 2012. We decided then to make a little interview with her to find out some more details about her life and her sport career. We hope you will enjoy this nice talk to one of the best Finswimmers in the world.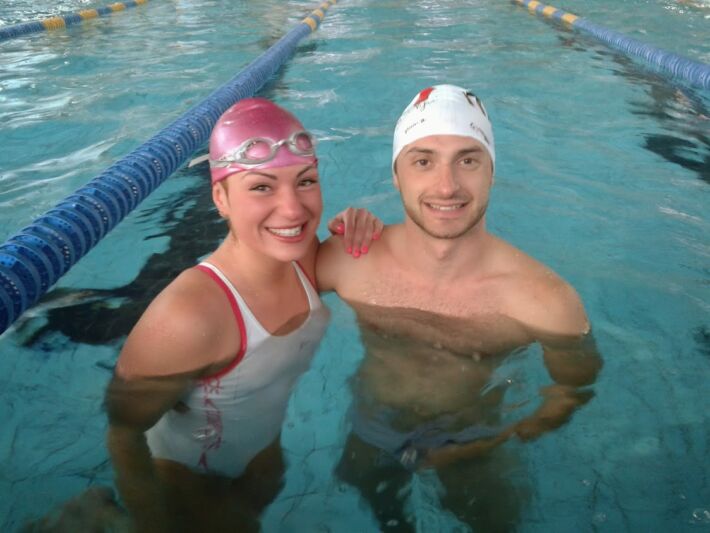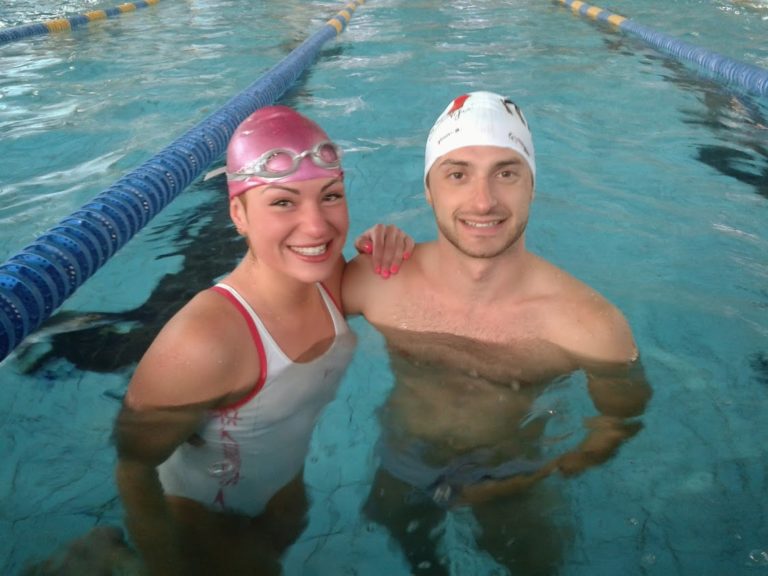 Hello Elena, you are one of the best Immersion Finswimmers in the World. Tell us about your career since the beginning.
Thank you very much for the interview. It is a big honour for me and I am happy to answer your questions 🙂
I live in Estonia in a small town – Maardu – with population of 12000 people and in my town Finswimming is the most popular sport. It has been 20 years since the opening of Maardu Finswimming Club.
When I was 5, I joined the club, and being only 6 years old I won our club's Child Championship. This inspired me!
My first appearance at the European Championship was in 2005 in San Marino, where I seen what means high speed in finswimming!
What do you do in your life apart from Finswimming? What were your studies (school/university)?
I graduated from Tallinn University in 2010 with a Bachelor's degree in Journalism, but it turned out that I started working as a coach in our finswimming club, where I train children from 3 years old and older. I also own a small cosmetic salon, where I also work as a cosmetologist. And I really enjoy doing all these things!
You won the European Championship in 2012 at the age of 25 years old, and your first International race was in 2005. But in 2011 we didn't see you at the World Championship in Hungary. Why?
Yes, I became a mum in summer 2011! 🙂 I have an amazing daughter – Darina!!!!
Wow! You are mum! It should be very difficult to mix your training sessions, your job as a finswimming coach, and being a mother. How do you manage?
It is not easy indeed, but if there is a big wish – you can manage everything!
For example, (while my baby is sleeping) my day starts from the morning training at 6.30 am – it could be jogging or swimming, then together we eat, play, and take a walk. If I need to work at the beauty salon, then for that period of time Darina is with her granny or with her nanny, and then we are together again – resting, playing and sleeping. At 5.00 pm I start my job with children at the swimming pool, and straight after that I have my own training there.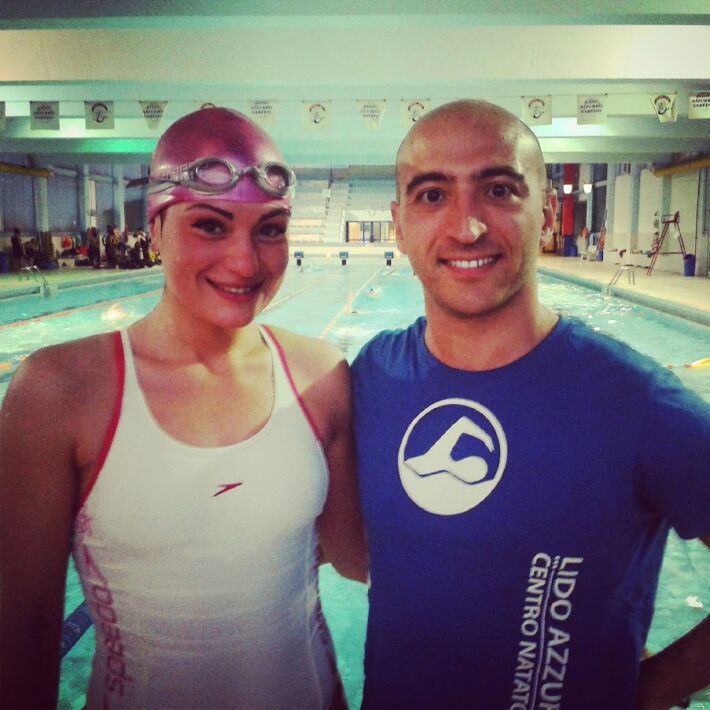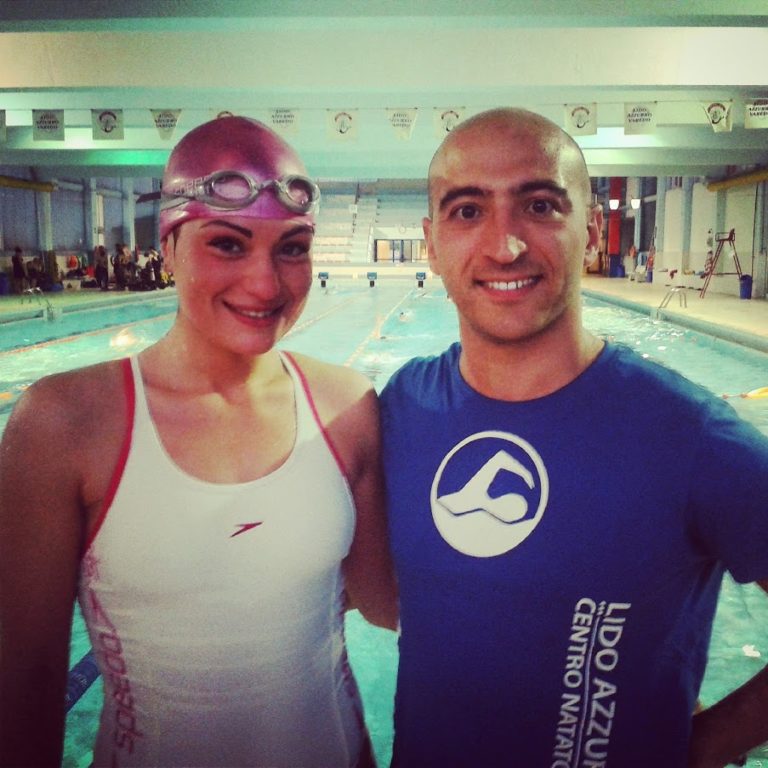 Let's talk about this again. You are the first woman I know that won a European Championship after becoming a mother… How did you restore yourself after the birth of your baby? Was it difficult?
It was really difficult!
I gave birth on the 1st of July, and on the 10th I was already at a stadium!
When I just started I thought I am going to die! It felt like I have never trained before!
During my pregnancy I have gained a lot of weight, I weighted 87kg being 165cm tall. It took me half a year for restoring my body into more or less athletic shape – in January I weighted 65kg already…and during all that time I have been breast-feeding.
In February we started our systematic training for the European Championship. Trainings took place 3 times a day: morning – jogging or swimming, day time – gym, evening – swimming. It was horrible, but fun at the same time! 🙂
What are your targets for the future? What job would you like to do? And how long will you finswim?
At the moment main aims – World Championship in Kazan…And after that who knows, but I would like to continue my sports career as long as possible!
Let's talk a little about Finswimming in Estonia… Explain briefly the situation over there.
With a population of 1.2 million people, we have 6 clubs with about 400 swimmers. I think this is not bad for such a small country!
Our team on the 2012 championships (European Championship and Junior World Championship) takes 5 medals, 2 of which were gold, plus the European Junior Record of Ksenia Belomestnova on 50m sf!
Who are your favourite Finswimmers and why? Who is/was your point of reference?
For my whole life I belong to one team with Galija Sattarova!
Galija helped me with many different things; she has been an example to me like strong athlete and now we are good friends!
Of course I am also grateful to my coach – Maksim Merkuri, because without him all this would not exist! He trained, helped, inspired and supported me on my way to success through pain and hardship! I feel that I am blessed to have these people in my life!
Classical question. What do you like and what you do you hate about Finswimming?
I like speed, competition, progress and pleasure of victories, including the ones over myself. I feel pity that there is no longer going to be 800im, I think this is not good for finswimming…stay only one underwater distance – 400 immersion (I do not count 100im, as normally it is different sportsmen who swim 100im and 400im). I really hope that it won't lead to disappearance of underwater distances in future…
Tell us something! (Free topic)
Based on my life I can say: all can be real – hard work and some luck can turn your life!
Help us! Send information and results about Finswimming events and championships!