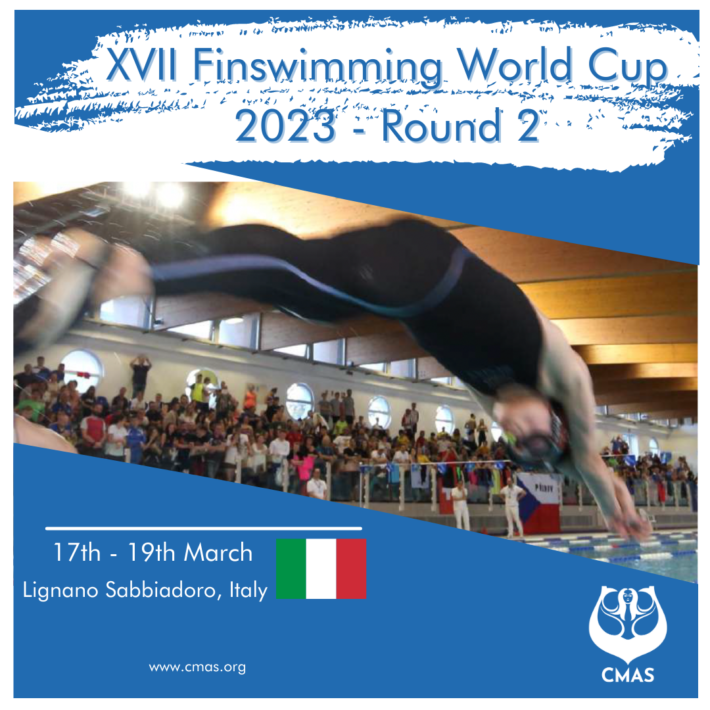 The A.S.D. SPORTINACQUA, with the agreement of C.M.A.S. and F.I.P.S.A.S., is pleased to invite you to the XVII Finswimming World Cup 2023 Round II, which will hold in Lignano Sabbiadoro (UD) from 17 to 19 March 2023.
The official STARTING LIST about the Finswimming CMAS World Cup 2023 Round 2 has been published on March 15th 2023. A total of 726 Finswimmers, probably one of the most populated Finswimming World Cup round ever.
FULL PDF RESULTS – OFFICIAL
EVENTS PROGRAM
RESULTS RACE BY RACE Events results will be uploaded here as soon as we got'em
Saturday Morning
Saturday Evening
Sunday Morning
Sunday Evening
LIVE STREAMING
SATURDAY MORNING WOMEN/GIRLS
SATURDAY MORNING MEN BOYS

SATURDAY AFTERNOON WOMEN/GIRLS

SATURDAY AFTERNOON MEN BOYS

SUNDAY MORNING WOMEN/GIRLS

SUNDAY MORNING MEN/BOYS
SUNDAY AFTERNOON WOMEN/GIRLS
SUNDAY AFTERNOON MEN/BOYS
INFO COMPETITION:
The competition will be held in Bella Italia Sports Village – Viale Centrale, 29 – Lignano Sabbiadoro (UD) – ITALY – Number 8 lanes, 50 meters long Olympic swimming pool features a constant depth of 2,10 m
LIVE STREAMING: on you tube channel "nuoto pinnato tv"
ACHILLE FERRERO PRIZE: Special prize at winners of 100 surface girls, woman, boys and man.
CHECK EQUIPMENT: during competition directly in call room before the race
START RACE: with previous heat in the water
CHANGES IN START LIST: Not possible in anyway
CHARGE BOTTLE: Not during competition. Only Friday for Saturday Bring them to judges in 50 meters swimming pool until 8.00 p.m.
FRIDAY TRAINING: is free to 3 to 8 p.m. We do not guarantee that everyone will be in the same time. We recommend to anticipate your arrival
TIME TABLE BELLA ITALIA RESTAURANT:
5.30-9,00 breakfast (Saturday and Sunday)
12,15-15,15 lunch (Saturday and Sunday)
19,30 – 22,30 Saturday dinner (Friday and Sunday 19,45-21,30)
TECNHICAL MEETING: Not provided
Is possible to swim in 25 meter swimming pool during competition
After one minute from the second call starts the race or the ceremony and who is not there not race or not medal…pay attention! Good stay in Italy!
ATTACHMENTS
Help us! Send information and results about Finswimming events and championships!