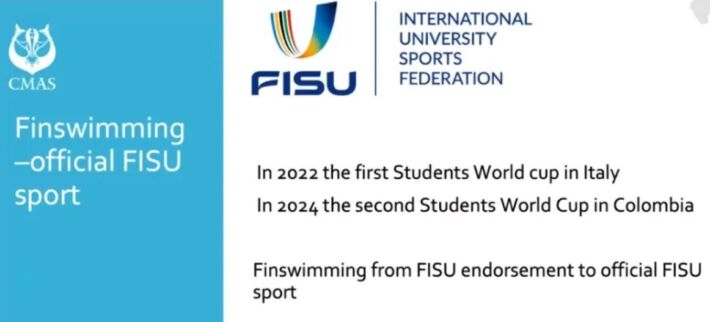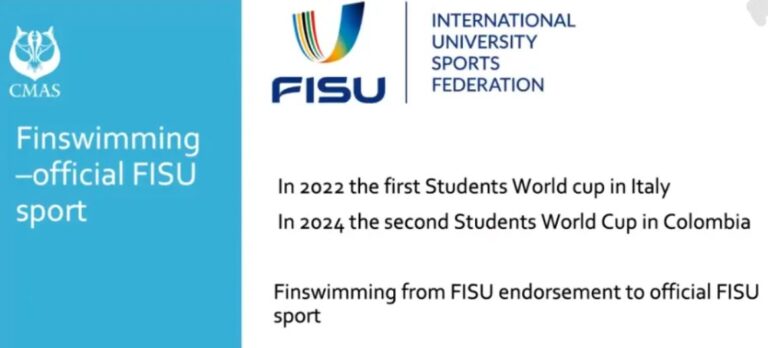 As appeared on Sportalsub and CMAS America, Finswimming will be officially included in the FISU University World Cup starting from 2022. In fact FISU (International Federation of University Sports) accepted the application sent by CMAS to become an official sport in this kind of events.
In 2020 the first Students World Cup in Italy, and in 2024 the second Students World Cup in Colombia.
This is the official letter sent to CMAS by FISU:
Your application to become a FISU University World Cup (UWC) has been assessed with our Sports Management Committee. Following the presentation of your dossier to the FISU Executive Committee, we have the pleasure to inform you that FISU has officially accepted to include Finswimming from 2022 in the UWC programme.

Our World University Championships and University World Cups Department will send you shortly an MoU to officialise our collaboration. This MoU can be signed digitally but we can, nevertheless, organise a meeting around the upcoming SportAccord Convention in Lausanne to officialise this agreement.

Next steps will be managed directly with our WUC & UWC Department in order to set up the 2022 and 2024 UWC editions.

We thank you once again for your great interest in University Sports and are looking forward to a fruitful collaboration with your federation.
Help us! Send information and results about Finswimming events and championships!