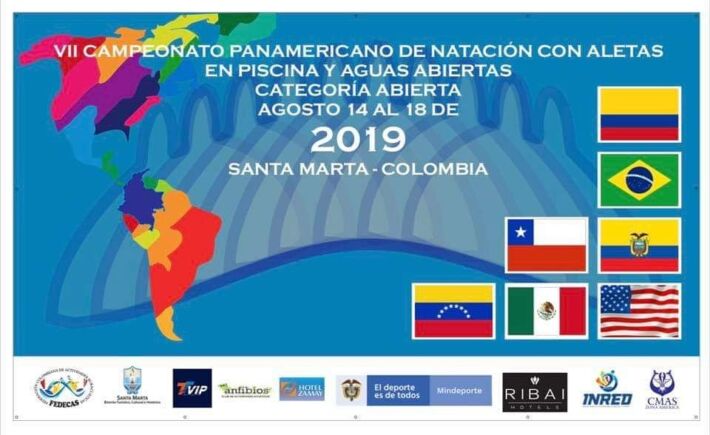 The VII Pan-American Finswimming Championship in Pool and Open Water of the World Underwater Federation (CMAS) will take place from August 14 to 18, 2019 in Santa Marta, Colombia. The event, which will be organized by the Colombian Federation of Underwater Activities (FEDECAS), is already published on the official CMAS website and in the 2019 Calendar of CMAS Zona América.
Parallel to this event will be the "I Copa del Mar" Interclubs and National University Championship with 30 clubs and 10 universities of the country.
Event in development – There is no live video information from the organization, live results can be accessed through the following links. Final results of each day updated on this page daily
Schedule and Results Panamerican Heats
Schedule and Results Panamerican Finals
Schedule and Results I Copa del Mar
Schedule and Results University Championship

 Peliminar Start List– (published on August 13, 2019)
-4
Days
-2
Hours
-55
Minutes
-45
Seconds
Source: CMAS Zona America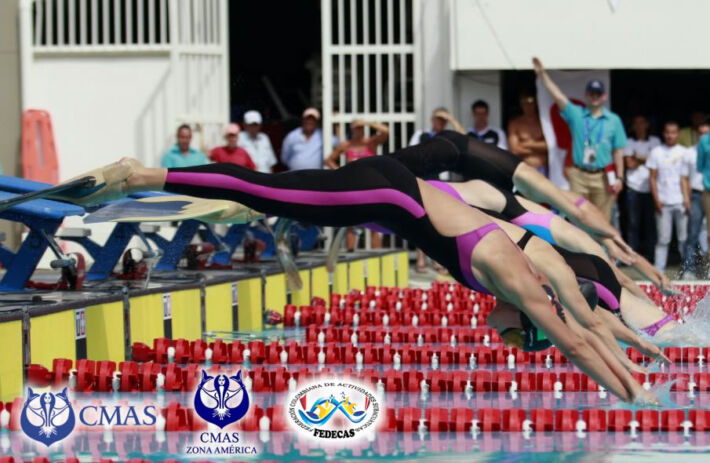 Finswimmers by Team
🇨🇴 Team: COLOMBIA
Delegate: Walter Roldan Reyes
Main Coach: Francisco Mendez
AGUIRRE JOYA MARIA CAMILA
AGUIRRE JOYA PAULA ALEJANDRA
CAICEDO CAMPO JAVIER MATTEO
DUQUE JIMENEZ JUAN DAVID
FERNANDEZ CASTILLO GRACE
FERNANDEZ CASTILLO MAURICIO
GALLON PALACIO VALERIA
GOMEZ CASANOVA JUAN SEBASTIAN
HURTADO SANCHEZ ALEJANDRO
JIMENEZ RAMIREZ ALEXANDER
LARA HAYEK DANIEL EDUARDO
LOPERA OROZCO MARIA CLARA
MACIAS ANASCO CAROLINA
MEJIA BRAVO CINDY JULIETH
MORENO ALEGRIA DIANA PAOLA
MUNOZ LOAIZA VANESSA
OCAMPO LOZADA JUAN FERNANDO
RAMIREZ AGUDELO FRANK STEVEN
RETAMOZO OLAYA VIVIANA PAOLA
SALGADO CAMPOS BRAYAN
TOVAR BOLANOS MARLON VLADIMIR
🇪🇨 Team: FEDASUB / ECUADOR
Delegate: Roberto Garcia Quito
Main Coach: Roberto Garcia Quito
Entrenador: Angela Jimenez Andrade
LOZA GUERRERO JESUS MANUEL
MORA TARIRA GIANLUCA FRANCESCO
RAMIREZ FREIRE JERELEY SALOME
REYES GARCES PAMELA VERONICA
🇺🇸 Team: UNITED STATES
Delegate: Carol Rose
Main Coach: Diego Leon Rodriguez Mora
FORTOU MARTIN
MORA SANTIAGO
MURIEL ANDRES
ORDONEZ NICOLAS
VILLADA JOSE
🇨🇱 Team: FEDESUB CHILE
Delegate: Andres Vasquez
Main Coach: Rodrigo Figueroa
PICHUN INAL RODRIGO WLADIMIR
PULGAR GONZALEZ JAVIER IGNACIO
ROJAS VEGA CAROLINA YASMIN
SOTO VARELA PATRICK MAURICIO
TORRES BRAVO ROCIO CATALINA
VERGARA GALVEZ GABRIEL ANDRES
🇧🇷 Team: ABFBLUR / BRASIL
Delegate: Mauricio Jordan De Souza Coelho
Main Coach: Wallace Morgado
BRUNO FRAZAO BRUNO FRAZAO DE LIMA
CLAUDEMIR KIRMES CLAUDEMIR KIRMES
FILIPE DOS SANTOS PEREIRA FILIPE DOS SANTOS PEREIRA
JOAO JOAO JOAO PEDRO MENDONCA BARRETO
THAIS BASTOS XAVIER THAIS BASTOS XAVIER
🇻🇪 Team: VENEZUELA
Delegate: Costantino Materano
Main Coach: Costantino Materano
VALENCIA RODRIGUEZ YEFERSON ESNEIDER
YENDEZ SURMAY YORMAN JESUS
🇲🇽 Team: MEXICO
Delegate: Delegado Mexico
Main Coach: Entrenador Mexico
ARELLANES CERVANTES ROSA MARIA
BADILLO ENRIQUEZ SALVADOR
CALVA CORONA EMILY
GOMEZ TAGLE LUZ GRACIELA
LOZADA PALOMINO LAURA GABRIELA
MEZA MUNOZ FRANCISCO JAVIER
PEREZ CALVO DAVID FABIAN
REYNA RAMIREZ KEITH MARELYN
SALCEDO RAMIREZ ARTURO
SOLANO ESPINOSA MANUEL ALEJANDRO
VALLE LOPEZ ERICK IVAN

Finswimming CMAS Championships 2019 Calendar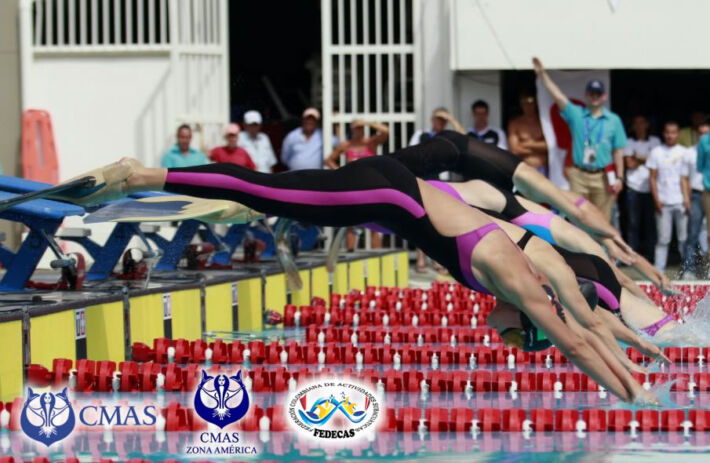 2
Help us! Send information and results about Finswimming events and championships!