UPDATE November 27th 2020. This calendar is not confirmed yet. More information here.
The CMAS International Finswimming Calendar contains both the CMAS Finswimming World Cup and the CMAS International Finswimming Championships, like Panamerican, Asian, European, African or World ones. Looking for on the internet we are able to prepare a preliminary draft that may look like the following one.
For what concerns the CMAS Finswimming World Cup the interested Countries are Poland, Hungary, Italy, Germany, USA and at the end of the season Egypt. The calendar, at the current date, is this:
WC ROUND 1 January 30th – 31st 2021 – Poznan (Poland)
WC ROUND 2 February 26th-28th 2021 – Eger (Hungary)
WC ROUND 3 March 19th-21th 2021 Lignano Sabbiadoro (Italy)
WC ROUND 4 April 23th-25th 2021 Leipzig (Germany)
WC ROUND 5 May 28th-30th 2021 Coral Springs (USA)
WC GOLDEN FINAL July 27th-31st 2021 Sharm el-Sheikh (Egypt)
As you can see, it finish very soon with the Golden Final (swimming pool + open water) at the end of July 2021. Usually it can go on until September or October!
But let's talk about the CMAS Finswimming International Championships. This year we will see 4 different events, like the following list:
Junior World Finswimming Championships June 13th-19th 2021 Lignano Sabbiadoro (Italy)
Senior World Finswimming Championships July 3rd-9th 2021 Tomsk (Russia)
Finswimming International Students competitions July 7th-11th 2021 Tomsk (Russia)
Open Water Finswimming Championships Senior + Junior + Master San Andrés Island (Colombia)
Let's keep our fingers crossed, in order that the events will be held smoothly, COVID permitting! Finswimming World movement deserves it!
Here the official CMAS Calendar as appears on the confederal web site.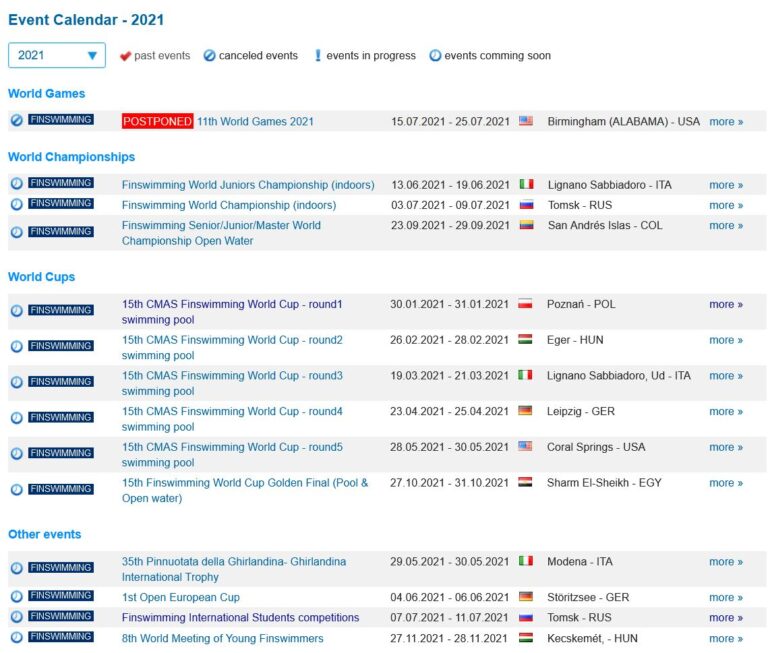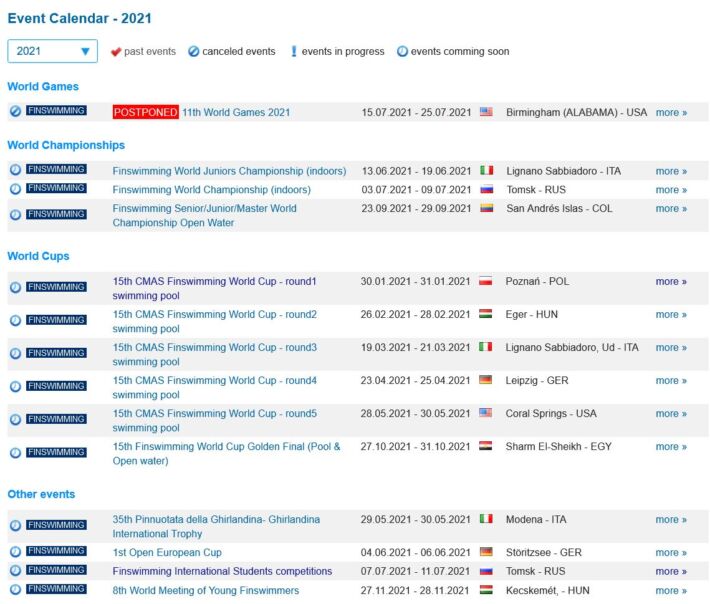 Help us! Send information and results about Finswimming events and championships!