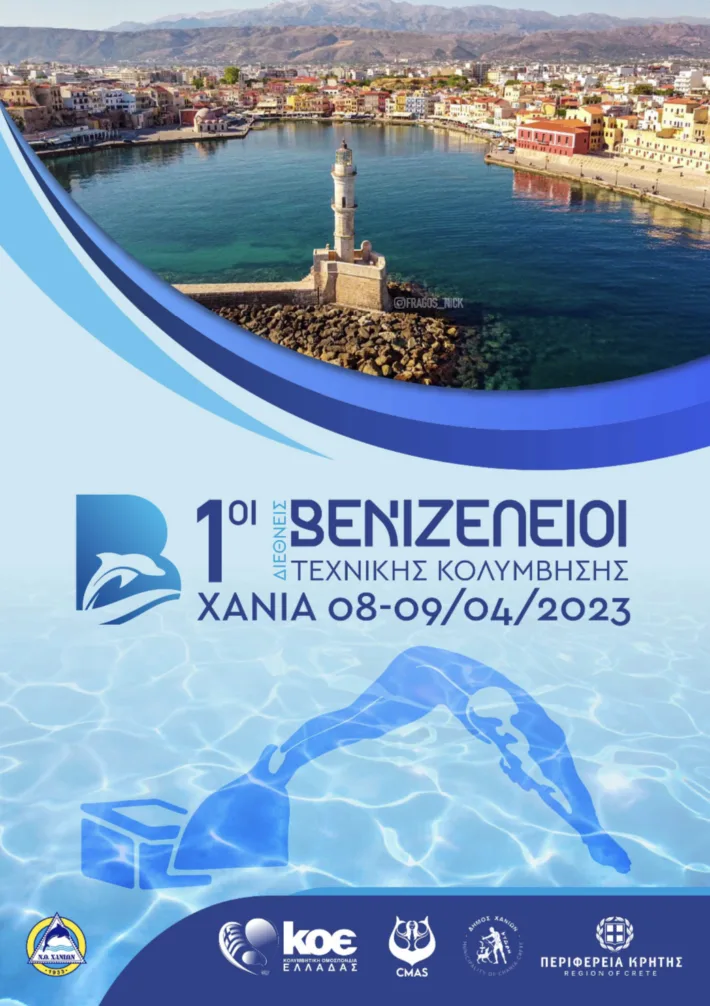 The Nautical Club of Chania under the auspices of the Hellenic Swimming Federation and the cooperation of the Region of Crete, the Regional Unit of Chania and the Municipality of Chania, organize the 1st INTERNATIONAL VENEZELEIA FINSWIMMING CHAMPIONSHIP, which will be held in Chania, on 8 & 9, April, 2023.
Venue – Date
The matches will be held at E.A.K. CHANION, Akti Kanari, Chania on 08-09/04/2023. On Friday 07/04 from 19:00 to 21:00 there will be an event for the sport of Finswimming, in view of the competitions with the presence of world-class athletes level, in the event hall of the Cooperative Bank of Chania (28-32, El. Venizelou str., Chania, Crete).
1st VENIZELEIA FINSWIMMING CHAMPIONSHIP
1οι ΒΕΝΙΖΕΛΕΙΟΙ ΤΕΧΝΙΚΗΣ ΚΟΛΥΜΒΗΣΗΣ ΧΑΝΙΑ ΠΡΟΚΗΡΥΞΗ.
Help us! Send information and results about Finswimming events and championships!