Interview with the head coach of the team KP Pardubice, evaluation of the current season and vision to the future
Head coach of the team of the city Pardubice – KP Pardubice Czech Republic – Josef Cimburek. In the interview he evaluates current situation, vision to the future for the whole team and the training methods he uses nowadays in the #stayhome regime.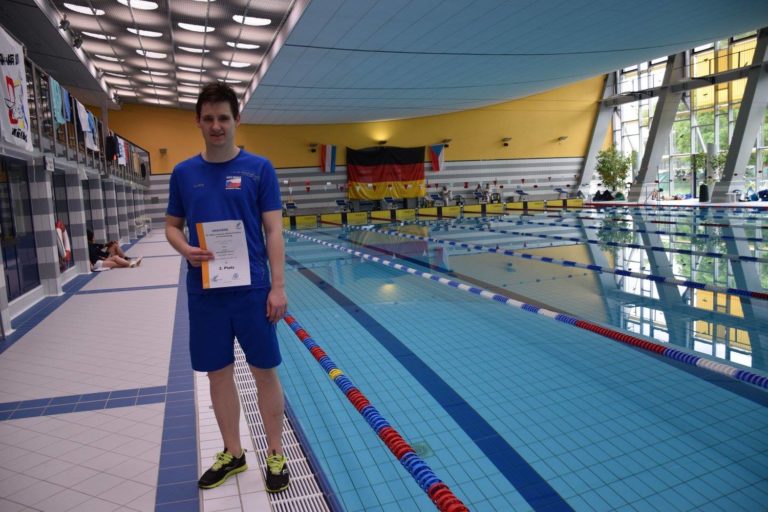 1) Swimming, as any other sports, is currently very limited, for swimmers maybe even more given the fact that the training in the pool is very specific. How do you modify the trainings for your mates. Is it even possible?
The truth is that swimming and finswimming is very specific discipline. We are really trying to build up our fitness condition so that it is not gone once all this is over. However as we really cannot train in the water or pool, the sense for water which is really important for us is very difficult to simulate, as it goes away really quickly. Every day that a swimmer misses pool training is hard. Therefore we are currently doing daily workouts to keep fit and in the regime at least a bit.
2) How do your trainings look like nowadays? Do you send various trainings to your team mates or do you meet online?
I must admit that meeting online via video chat has been really helpful for all of us and also very beneficial. Thanks to these online chats we can have daily workouts which are circuit trainings with special exercise for swimmers/finswimmers and due to this we can all meet on daily basis as we are used to it, no one is home alone and we can support each other. I always structure the training so that it is different every day and the regime is by this a bit special. Some days we also do various fitness challenges to have fun together with my mates.
3) Where do you see the biggest difference between trainings of swimmers and other sports? Do you think they are now having a bit of an advantage when it comes to training methods?
They definitely do have a bit of an advantage, as the basic moves always come from running or athletics, therefore they can simulate and train more easily than swimmers, as going running to the nature is now no more forbidden, it is definitely a great support for their sports. Even though we also try to incorporate running and biking to our trainings, the pool trainings are definitely something we cannot simulate and therefore we will have though times after.
4) How does your season look in the Czech Republic for finswimmers now? Have your mates already had an opportunity to attend at least some competitions?
Our season basically corresponds to the school year, so starts in September and ends in June. In July the championships take place, which were now due to the situation postponed. When it comes to the season for our team, half of the season of now officially over for us, we have at least managed to attend the first round of the World Cup in Eger in February. After that time all other competitions were suspended. When discussing the national competitions, all of them were also postponed so we do hope to attend them in Autumn, if all of us will be back in the game.
5) Do you think that the season will be postponed or cancelled with the vision of a new one starting the next year?
I really do hope that the most important competitions will be postponed for Autumn and that the situation gets better.
6) If the season opens again this year, what do you consider to be the highlight of it for your team?
This all will be definitely discussed once we have the official information about the competitions and the season, if the competitions will be postponed or cancelled. However if it all goes well, then KP Pardubice's finswimmers are definitely ready to compete at the Junior Championship, which will be the highlight for them. Alternatively it can also be some other round of the World Cup or National Championship.
7) How many finswimmers are currently in your team preparing for the competitions?
Currently there are 4 finswimmers, with the ambition to grow and compete on the world cup level, all of them junior competitors. Other mates of age range between 7 – 17 years old are also in the training, but they still need to work a bit on their qualities. Although all of the
team mates have a lot to train for, I am so happy so see their motivation and activity, as we see each other daily.
8) How do you keep the sports attitude in the team? Do you have any tips which you could share with us? Especially with your top group of finswimmers.
For me the video chats and collective daily workouts seem to be a great motivation how to keep everyone's motivation and sports attitude. Thanks to this we have the everyday contact to which we are used to at the pool and which no one wants to miss. During our online chats we do not just exercise, but we still have time before and after the workout to talk about finswimming, current situation and everyday topics as we did before. During days we are sending each other motivational videos, tips for sports films, so that all of us still think about the sports and look forward to the day once the situation gets better and we can get back to the training regime. Even though we all do miss pool, trainings and mates very much, we know that the situation is not easy and that the measurements which were taken by the governments need to take place. That is why we all respect the situation and #stayhome. However we all stay positive as much as we can, we support each other and look forward to see all finswimming friends soon!
Stay strong, stay healthy and #stayhome.
Help us! Send information and results about Finswimming events and championships!