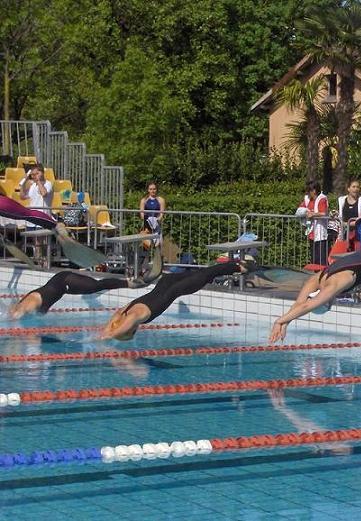 Hello Victoria, I know you are a very very fast Finswimmer all over the World, tell us about your career since the beginnings.
HI Dave, first of all thank you for this interview. Well, I have always been involved in sports. I started as a gymnast at 7 years old, I represented my city and my country in competitions for 10 years but I have to quit because I started my university studies. At University one of my schoolmates invited me to practice finswimming. My first interest was learning how to swim and it didn`t take to long to be one of the best of my city and my country.
What do you do in your life? What kind of job/studies? How do you mix work/study and sport?
I am a systems engineer and I am working as a developer in SAP at the moment. Also, I am married and I have a beautiful girl called Valentina, she is 6 years old.
Well, it is a bit complex to mix all the things I do in my life but fortunately I have great help from my family (Husband, daughter, Parents and Fathers-in-law) and from my company (CAFAM). I believe that it is thanks to this people that I have obtained very good things in finswimming and in my life.
Do you own any record?…When and where did you get this title? How did you feel that day?
Yes, actually I have two Pan-American and national records (50 Apnea, 100 immersion).
I got the 50 Apnea record (16.99) in World Games – Taiwan 2009, I remember very well how I felt and how I swam. My intention was to improve my time and get to the final. At the end, I improved my time, but I couldn't get to the final.
The record of 100 immersion (38.66), I did it in Valencia – Spain in the Golden Final – World Cup 2010. I had been trying to improve the time of this track event for two years and this day I knew if I wan, I could get the points to be the First in the World Cup – 2009. When I finished and I saw the time, I felt really happy, and my trainer and my team too.
Who are your favorite Finswimmers and why? Who is/was your point of reference?
I admire a lot the swimmers with persistence and humility. My favorite always will be Stefano Figini, I think that he is a model of a sportsman. I have seen him swimming for a long time, I met him in the World Cup in Bogotá and I saw him in Taiwan making the 400 surface record even though he had a lot of pressure on him and people were making unfair comments about his performance. He has a lot of qualities as a person and that makes him the best champion.
Also, I admire the persistence of Sven Lutzkendorf, I think that he made the impossible, possible.
In women, I think that Zhu Baozhen is the best, all the speed swimmers want to achieve what she has got.
In my country I admire Leonidas Romero (4th in 100 surface – World Games), he is the best male Finswimmer in Colombia, I think that he has the humility needed to be a good winner.
My points of reference are my coach and my team mates from my club (Sporting Club Cafam), they are the ones who give me the motivation and the energy to go on. I think, when you are the best of your country, you need people that allow you to notice that you have to do your best in every training, it doesn't matter your place in a competition.
What do you expect from this sport? How do you see it in the next 10 years?
Well, my expectations on finswimming are focus in the CMAS Games in Colombia – 2011, but more than that they are focus on trying to find the way to involve more children and young people in sports. I think that by practicing a sport, a kid can become more skillful and get more opportunities in life. Our country (Colombia) needs its young people to know themselves and set goals for themselves and this can be done by practicing a sport.
In 10 years, I hope I can have the possibility to lead the sport ambit, I really desire that the sport in our country will be a window to know our country as it really is.
What do you like about Finswimming? And what do you hate?
I really like how I feel when I swim; I like the velocity, the sound of water, and the good things that the sport do in people, their families and their environment.
I hate a lot, the administration of sport (Finswimming), in our continent (America) our sport has opportunities to grow, but the administrative management in Federations is poor, the personal interest always prevails over the general interest.
Tell us a Typical Training Day.
4:30 am – Wake Up
5:30 am a 7:00 am – Gym training
7:30 am a 4:00 pm – Work
4:30 pm – 7:00 pm – Pool Training
7:30 pm. . . . Share with my family ?
Did you meet a lot of friends with our sports? Are you always in contact with?
Yes, representing your country allows you to visit a lot of places and meet many people in the world, Facebook is a very good tool to stay in contact with people and your friends.
Some of the people that I have met are: Cesare Fumarola (ITA), Claudia Ametto(ITA), Miguel Cedeño(VEN), Camille Heitz(FRA), Camile Bouron(FRA), Stefano Figini(ITA), Andres Torini(CHI) and a lot of people from my country (Colombia).
If you could do something, what would you do to let Finswimming grow?
There is still a lot to do in our continent especially in the management of the sport. I really hope I could keep contributing to the sport in my country. There are things that I have already done with the help of my trainer – husband like being the first Colombian going to a world cup (2006 World Cup– 4th Round) )and winning a world cup (2009).
In the same way, my sporting club (CAFAM) get the first round in World Cup – 2009, and for this year we have the 5th round (August – 2010). I think, that these things allow knowing about Finswimming in our country and in our continent, and for that may be our sport growing!
Tell us something (free topic)
The first thing is invite all the Finswimmers to the World Cup that will be held in Bogotá in August 2010. (http://www.youtube.com/watch?v=rgnFv4Vkl3k)
Also, I want to be thankful with you, because persons like you we had information about our sport in the World.
In the same way, I always be thankful with ALL THE PEOPLE who are involved in positive way with my life and in my sport, to my Sporting Club Cafam, my family and friends, but specially my daughter and husband ?. THANKS!!!!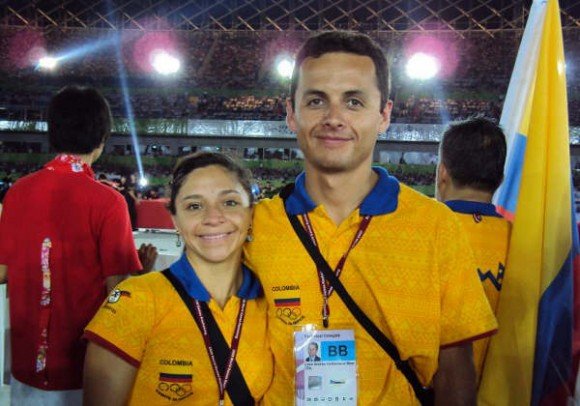 Ciao Victoria, sappiamo che sei una delle nuotatrici piú veloci al mondo, raccontaci la tua carriera fin dall'inizio.
Ciao Dave, Tante grazie a te e a Finswimmer Magazine per questa intervista. Ecco, sono stata sempre dentro lo sport, da quando avevo 7 anni facevo ginnastica, e per 10 anni l'ho praticato in modo agonistico portando i colori della mia città e anche della nazionale.
2 anni dopo, quando già erò all'università, un mio compagno mi ha chiesto di andare a nuotare con lui e fare Nuoto Pinnato. Per me in quel momento sollo c'era l'interesse di imparare a nuotare, poi che nelle gare di ginnastica sempre andavamo in piscina con i miei amici e io non sapevo nuotare.
In poco tempo imparai a nuotare e i miei tempi miglioravano velocemente.
Cosa fai nella tua vita? Che studi hai e che lavoro hai? Come fai a conciliare lavoro, studio e sport?
Oltre ad allenare io sono ingegnere, adesso lavoro nello sviluppo di software in SAP – Sono sposata e ho una bella bimba che si chiama Valentina, lei ha sei anni.
In realtá fare tante cose nella mia vita è un pò difficile, ma ho un gande suporto nella mia famiglia (mio marito, figlia, e i genitori) e anche della ditta per cui lavoro (CAFAM). Penso che sono stati loro a permettermi fare un buon risultato sportivo.
Hai qualche record? Quando e dove hai ottenuto questo titolo? Cosa hai vissuto quel giorno?
Sí, adesso ho due record panamericani e nazionali (50 Ap e 100 Velo)
Nei 50 apnea ho fatto 16″99, questo tempo l'ho fatto a Kaohsiung in Taiwán per i World Games 2009, ancora ricordo lo sensazione quando nuotavo quel giorno, io volevo migliorare il mio tempo e essere in finale, a la fine son riucita a migliorare, ma non sono stata in finale (9 posto).
Nei 100 velo ho fatto (38″66) e l'ho fatto nella Golden Final World Cup 2009 in Spagna. In questa distanza e diverso perche è una prova in cui avevo un tempo alto rispeto dei miei migliori nei 50, più di 2 anni cercando di migliorare in quella prova, poi era decisiva per vincere la World Cup 2009, sapevo che se vincevo in quella gara facevo i punti per vincere. È stato un momento molto emozionante per me, per il mio allenatore e la mia squadra.
Chi sono gli atleti di Nuoto Pinnato che preferisci e perche? Chi è il tuo punto di riferimento?
Ho molta ammirazione per gli atleti con persistenza e l'umiltà. Il mio preferito è Stefano Figini, per me un nuotatore integrale. Ho sempre osservato come nuota, l'ho conosciuto nella World Cup a Bogotá e l'ho visto a Taiwan senza interesare quello che si parlava rispetto a la sua preparazione e la presione su di lui, ha vinto con il record del mondo nei 400 mt in superficie. Lui ha tante qualità come persona e per quello è più campione che gli altri. Ammiro molto anche la persistenza di Sven Lutzkendorf, penso che è un esempio di raggiungere l' irraggiungibile.
Nelle donne, la mia preferità è Zhu Baozhen, in realtà penso che tutte le donne vogliono arrivare a i suoi tempi.
E nell mio paese ammirò molto a Leonidas Romero (4to nei World Games), ha dedicato la sua vita al Nuoto Pinnato e ha trovato buoni risultati, ma sicuramente la sua qualità migliore è la sua umiltà.
Il mio punto di riferimento è decisamente il mio allenatore y i mie compagni di squadra (Club Deportivo Cafam), sono loro quelli che mi danno la motivazione per andare in avanti. Penso che quando sei il migliore nel tuo paese, a volte sono loro quelli che ti permettono di renderti conto che per continuare nel primo posto devi allenarti forte sempre ogni allenamento senza preoccuparti della gara.
Cosa ti aspetti del tuo sport? Come ti vedi nei prossimi 10 anni?
Le mie aspetattive nel pinnato a livello personale sono nei mondiale in Colombia nel 2011, ma piú che altro vorrei che tanti ragazzi e giovani si interessino nella pratica dello sport. Penso che lo sport è un mezzo che da degli strumenti e opportunità. Nel nostro paese (Colombia) c'è tanto bisogno che i ragazzi imparano a conoscersi e cercare obiettivi concreti che possono trovare nello sport.
Bene, in 10 anni, spero di avere la possibilità di poter dirigere in ambito sportivo, in realtà desidero che lo sport nel nostro paese sia una finestra per farci conoscere nel Mondo.
Cosa ti piace del nuoto pinnato? E cosa odi?
Mi piace molto quello que si sente al nuotare, mi piace la velocità, il suono dall'acqua, le cose positive che si creano quando la gente fa sport (responsabilità, disciplina) e anche nelle famiglie.
Non mi piace l'amministrazione, nel nostro continente (America) il nostro sport ha avuto tante oportunità per crecere, ma amministrativamente la nostra federazione non è organizata, di solito gli interesi particolari sono molto più importante da quelli generali.
Com'è un giorno tipico di allenamento?
4:30 am – Sveglia
5:30 am a 7:00 am – Allenamento in Palestra
7:30 am a 4:00 pm – Lavoro
4:30 pm – 7:00 pm – Allenamento in piscina
7:30 pm. . . . Tempo con la mia famiglia
Hai conosciuto tanti amici col nostro sport? Sei sempre in contatto con loro?
Si, rappresentare il tuo paese ti permette di conoscere tanti posti e anche tante persone, poi facebook e un meraviglioso strumento per essere in contatto con la gente che conosci e poi ti puoi fare tanti altri amici.
Tra le persone con cui parlo di solito ci sono Cesare Fumarola (ITA), Claudia Ammetto (ITA), Miguel Cedeño (VEN), Camille Heitz (FRA), Camile Bouron (FRA), Stefano Figini (ITA), Andres Torini (CHI) e tantissime persone in Colombia.
Se potesi fare qualcosa, cosa faresti per far crescere il nuoto pinnato?
Per il nostro sport ci sono tante cosa da fare, nel lato amministrativo spero di aiutare allo sport del mio paese, principalmente nel Nuoto Pinnato, ma penso che comunque si sono fatte delle cose importanti, in compagnia del mio allenatore-marito, per esempio sono stata la prima Colombiana in partecipare in una Coppa dell Mondo, (1ra World Cup 3r Round Ravenna Italia 2006) e 3 anni dopo vincere la World Cup (4ta World Cup – 2009).
Poi, la mia squadra (CAFAM), è riuscita ad ottenere l'organizzazione della Prima Tappa della 4ta World Cup 2009 e per quest'anno abbiamo ottenuto la Sesta Tappa.
Queste cose hanno permesso di far conocere molto di piú il nuoto pinnato nel nostro paese e nel nostro continente.
Raccontaci qualcosa!!! (Argomento libero)
La prima cosa è di invitarvi a tutti alla World Cup (http://www.youtube.com/watch?v=rgnFv4Vkl3k) che ci sará a Bogotá (agosto 2010)
Ringrazio te per l'opportunità che ci dai, e per far crescere il nostro amato sport.
Vorrei ringraziare tutti quelli che hanno dato qualcosa di positivo alla mia vita e al mio sport, alla mia squadra Cafam, e alla mia famiglia, i miei amici, ma principalmente mia figlia e il mio marito. GRAZIE !!!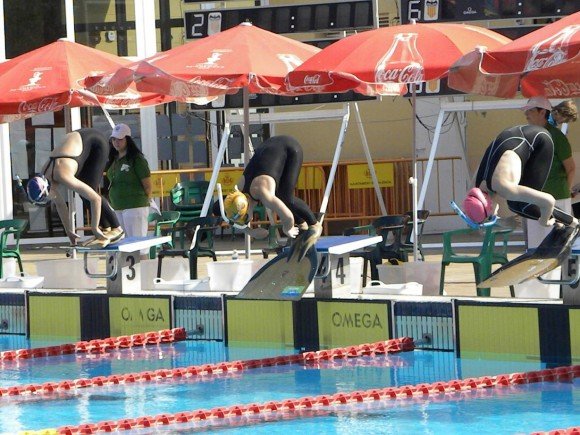 Hola Victoria, sabemos que eres una de las nadadoras mas rápidas del mundo, cuèntanos de tu carrera desde el principio.
Hola Dave :), muchas gracias a ti y a finswimmer por esta entrevista?. Bueno siempre he estado involucrada en el deporte, desde los 7 años fui gimnasta olímpica, competí por mi ciudad y mi país hasta los 17 años, pero debido al estudio tuve que retirarme. En la Universidad, un compañero me invito a las prácticas de natación con aletas, inicialmente mi interès fue aprender a nadar, siempre en los campeonatos de gimnasia salía ahogada de las piscinas?, pero no me tomo mucho tiempo mejorar y mis tiempos cada vez fueron mejores ?
Que haces? Què clase de trabajos/estudios? Como mezclas tu trabajo/estudio y el deporte.
Además de entrenar, soy Ingeniera de Sistemas, actualmente trabajo como desarrolladora en SAP®, estoy casada y tengo una hermosa niña llamada Valentina, tiene 6 años ?
La verdad mezclar las cosas que hago en mi vida es en cierta forma complejo, tengo una gran ayuda por parte de mi familia (Esposo, hija, Padres y Suegros) y de mi empresa (CAFAM). Creo que es gracias a ese conjunto de personas que he logrado muy buenos cosas en el deporte.
Tienes algún record? Cuando y donde conseguiste este título? Como te sentiste ese día?
Si, actualmente tengo dos records panamericanos y nacionales (50 Apnea y 100 inmersión).
El 50 Apnea (16.99) lo realice en Taiwan, en Los World Games – 2009, recuerdo muy bien como nade esa prueba y lo que sentí, mi intención era mejorar mi tiempo y pasar a la final, logre mejorar mi tiempo ?, pero no pasar a la final (9no lugar) ?.
El 100 inmersión (38.66) y lo hice en la Golden Final – World Cup 2009 en Valencia – España, para el tiempo del 50 apnea, mi tiempo en el 100 inmersión era muy alto, llevaba mas dos años intentando mejorar esa prueba y era definitiva para lograr el primer lugar en la World Cup 2009, sabía que si ganaba esa prueba, lograba los puntos. Y así fue ? Fue muy emocionante para mí, mi entrenador y mi equipo ?
Quienes son tus nadadores con aleta favoritos y porque? Quien es/son tu punto de referencia?
Admiro mucho los nadadores con persistencia y humildad. Mi favorito siempre será Stefano Figini, me parece un nadador ejemplar. Siempre lo vi nadar, lo conocí en la World Cup de Bogotá y vi como en Taiwan sin importar los comentarios y la presión que había hacia su desempeño, gano con record el 400 superficie, tiene muchas cualidades como persona y eso lo hace ser más campeón que cualquiera.
Tambièn admiro mucho la persistencia de Sven Lutzkendorf , creo que es un ejemplo de que es posible lograr hasta lo imposible!
En mujeres, mi nadadora favorita es Zhu Baozhen, realmente creo que todas las velocistas les gustaría llegar a sus tiempos ?
Y bueno, para finalizar en mi país admiro mucho a Leonidas Romero (4to en World Games), ha dedicado su vida a la natación con aletas y ha logrado muy buenos resultados, pero tal vez lo mejor de èl es su humildad al ganar ?
En cuanto a mi punto de referencia, definitivamente mi entrenador y los nadadores de mi equipo (Club Deportivo Cafam), son ellos los que me dan la motivación y el ánimo para seguir adelante. Creo que cuando eres el mejor de tu país, a veces son ellos los que te llevan a darte cuenta que para seguir siendo el mejor hay que esforzarse al máximo en cada entrenamiento sin importar tu lugar en la competencia ?
Que esperas de este deporte? Como te vez en los 10 años siguientes?
Mis expectativas con la natación con aletas a nivel personal están enfocadas en el Mundial de Colombia – 2011, pero más que eso están en buscar que más jóvenes y niños se involucren en el deporte. Pienso que el deporte brinda muchas herramientas y oportunidades. Nuestro país (Colombia) necesita mucho que los jóvenes aprendan a conocerse y a buscar objetivos que puede darles el deporte.
Ahora en 10 años . . . espero tener la posibilidad de poder liderar un poco el ámbito deportivo, realmente deseo que el deporte en nuestro país sea una ventana para que realmente nos conozcan como realmente somos ?
Que te gusta de la Natación con Aletas? Y que odias?
Me gusta muchísimo lo que se siente al nadar, me gusta la velocidad, el sonido del agua, las cosas buenas que genera el deporte en los deportistas, sus familias y su entorno.
Me disgusta muchísimo la parte administrativa, en nuestro continente (Amèrica) nuestro deporte ha tenido muchas oportunidades de crecer, pero administrativamente el manejo de las federaciones es muy pobre, generalmente siempre los intereses personales predominan sobre los generales?.
Cuèntanos un día típico de entrenamiento?
4:30 am – Despertar
5:30 am a 7:00 am – Entrenamiento en Gimnasio
7:30 am a 4:00 pm – Trabajo
4:30 pm – 7:00 pm – Entrenamiento en Piscina
7:30 pm. . . . Compartir con mi familia ?
Has conocido muchos amigos con nuestro deporte? Tu estas siempre en contacto con ellos?
Si, representar a tu país te permite conocer muchos lugares del mundo y muchas personas, además Facebook es una herramienta maravillosa para estar en contacto con las personas que conoces y haces muchas amistades.
Entre las personas con las que hablo con frecuencia están Cesare Fumarola (ITA), Claudia Ametto(ITA), Miguel Cedeño(VEN), Camille Heitz(FRA), Camile Bouron(FRA), Stefano Figini(ITA), Andres Torini(CHI) y mucha gente en Colombia.
Si pudieras hacer algo, que harias para hacer que la natación con aletas crezca?
Para nuestro continente hay mucho trabajo por hacer, de un modo más administrativo, realmente espero poder seguir aportando al deporte de nuestro país, principalmente en la natación con aletas, pero creo que se han hecho algunas cosas, en compañía de mi entrenador-esposo?, por ejemplo logre ser la primera Colombiana en ir a una Copa Mundo, (1ra Copa Mundo, 3ra Ronda – Ravenna, Italia – 2006) y ganar una Copa Mundo (4ta Ronda – 2009).
De igual forma, mi Club (CAFAM), logro tener la sede de la 1ra Ronda, 4ta Copa Mundo (2009), y para este año tenemos la 6ta ronda (2010).
Esas cosas han permitido dar a conocer un poco más la natación con aletas en nuestro país y en nuestro continente, y eso permite que nuestro deporte crezca!
Cuèntanos algo
Lo primero es invitarlos a todos a la Copa Mundo (http://www.youtube.com/watch?v=rgnFv4Vkl3k ) que se realizará en Bogotá (Agosto 2010).
Igualmente es la oportunidad para agradecerte a ti por buscar que nuestro deporte sea conocido en el mundo.
De igual forma agradecer a todos aquellos que han dado algo positivo para mi vida y mi deporte, a mi Club Deportivo Cafam, a mi familia y mis amigos, pero principalmente a mi hija y esposo. GRACIAS!!!!!!
Help us! Send information and results about Finswimming events and championships!