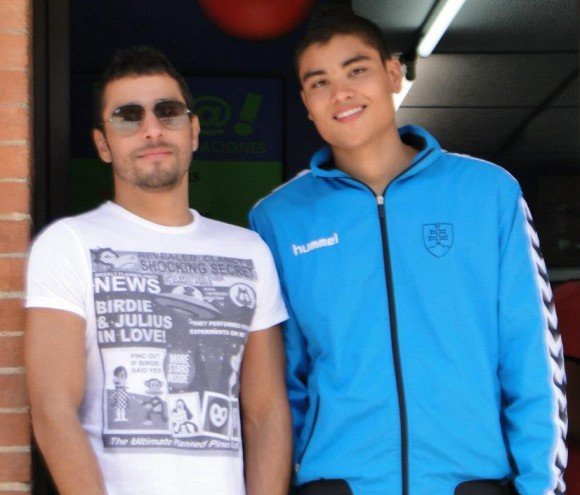 In the picture Alvaro Hugo Polo and his brother Juan Fernando Ocampo.
During the latest Colombian National Games 2012, the young Juan Fernando Ocampo, that if you don't know is the Alvaro Hugo Polo's brother, made 3 Panamerican Records in the races of 100 sf in 35″72, 200 sf in 1'21″73 and 400 sf with 3'04″28. We already had a nice interview with Juan about 3 years ago, you can read it here, so we just asked him some little questions.
How did you feel after your results in Colombian National Games last week in Popayan?
I felt very happy for this results cause we did hard trainings for his competition, I'm glad that I swim good last week and I'm sure it is because I did a good training and I think I improved my technic too, and this made me feel more faster in the water and I feel I enjoy very much every time I jump to the pool.
What was the hardest part of your preparation for this competition?
For sure was the 3 week we did training at Bogota city, it is over 2600mts over the sea level, and is so cold city! I was there with my brother Alvaro Polo and my friend Esteban Caraballo, and we had to wake up at 5.00am every morning! This part was hard but I'm sure this 3 weeks there really helped us cause Popayan is also cold and it is over 1800mts upon the sea level so it is also high and I feel it in 400mts sf really.
In order to make this 3 continental records what did you change or improve this year in your training system?
Well I think I'm more strong than before cause now I am 18 years old, look… 1 year ago my weigth was 72-73 now I am around 81 kgms and I am almost 1,86ctms so this really helps me, specially in 100sf cause it is the first year I swim this distance and 35″7 is a good start, also I need to give all credit to Viktor Panev and Igor Soroka (ROCKETFIN) cause they really made for me a great monofin, and thanks to this I could swim so good.
And about training I work more focused and more specific for my distances, I wanted to achive some time on each distance so we work thinking of this.
Who else you would like to thank for your results at this moment?
So many people, first my family, and friends, my team mates, my coach Manuel Escobar, and my brother Alvaro Polo cause he organizes all our training schedule for me and my team, and to other swimmers that help me and inspire me like Stefano Figini, Valeria Baranovskaya, Denes Kanyo, William Baldwin, and Tsorounakis.
What is next for you in finswimming?
We finish our season here so now holidays, we will go to visit our friends in Paris and to visit everyone at PPO Club few days, in January we will start again and for sure I will be training hard for next World Champioship, and I hope I can be in World Games too, but I have no idea if I will be there, but I want to improve my results and be able to compete at the same level as all this great sportmens that make me improve and work hard every day.
Something else you would like to add?
I love this sport, I love to be able to swim every day and to travel and visit places and meet new friends, it is perfect for me, even if we had during the last year many internal problems in our region, but Finswimming is something that I need as part of my life, and it is the best part, and I am really glad and humble to be able to do what I want every day, so I want to thank everyone that helped me to improve in this sport and in this way help me improve as person.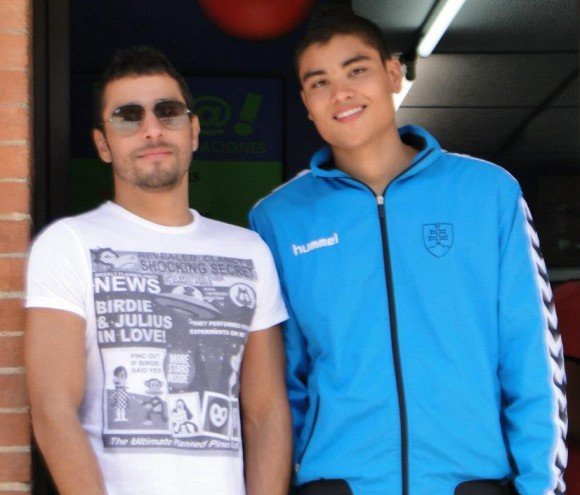 Nella foto Alvaro Hugo Polo e suo fratello Juan Fernando Ocampo.
Durante gli ultimi Colombian National Games 2012, il giovane Juan Fernando Ocampo, che ne caso non sappiate è il fratello di Alvaro Hugo Polo, ha stabilito ben 3 Record Panamericani nelle seguenti distance: 100 np 35″72, 200 np in 1'21″73 e 400 sf con 3'04″28. Noi abbiamo già intervistato Juan tre anni fa, la potete leggere qui, quindi gli facciamo solamente alcune brevi domande.
Come ti senti dopo i risultati ottenuti ai Colombian National Games la scorsa settimana a Popayan?
Mi sento molto felice per questi risultati perchè abbiamo fatto duri allenamenti in cista di questa gara, sono contento di aver nuotato bene la settimana scorsa e sono sicuro che è perché ho fatto un buon allenamento e credo di aver migliorato anche la mia tecnica, e questo mi ha fatto sentire più veloce in acqua e trovo molto piacevole le sensazioni che ho in acqua.
Qual è stata la parte più difficile della preparazione per questa gara?
Di sicuro le tre settimane di duro allenamento a Bogota city, è ad oltre 2600 metri sul livello del mare, e fa davvero freddo! Sono stato li con mio fratello Alvaro Polo e il mio amico Esteban Caraballo,e abbiamo dovuto svegliarci alle 5.00 tutte le mattine! Questa parte è stata difficile ma sono sicuro che mi abbiano aiutato parecchio perchè Popayan quindi è simile a Bogota, mi è servito soprattutto nei 400 np.
Per riuscire ad ottenere questi 3 record Continentali cosa hai dovuto cambiare?
Beh adesso sono sicuramente più forte di prima, per esempio… 1 anno fa pesavo 72-73 mentre adesso sono 81 kg e sono alto circa 1,86ctms e questo mi aiuta tantissimo, specialmente nei 100sf poichè questo è il primo anno che nuoto questa distanza e 35″7 è davvero un ottimo inizio, poi devo anche ringraziare Viktor Panev e Igor Soroka (ROCKETFIN) poichè la monopinna che mi hanno preparato è ottima, ed è anche per merito loro che posso nuotare come nuoto.
Per questo rigruarda gli allenamenti, ora sono molto più concentrati e specifici sulle mie distanze, il mio obiettivo era di migliorare in alcune distanze e abbiamo lavorato in questa ottica.
Chi altri vuoi ringraziare per i risultati ottenuti?
Tante persone, in primis la mia famiglia, poi i miei amici, i miei compagni di squadra, il mio allenatore Manuel Escobar, e mio fratello Alvaro Polo poichè è lui che organizza tutti gli allenamenti, sia per me sia per tutta la squadra, e ringrazio anche tutti gli altri atleti che mi ispirano come Stefano Figini, Valeria Baranovskaya, Denes Kanyo, William Baldwin, e Tsorounakis.
I tuoi obiettivi per il futuro?
Abbiamo appena finito la stagione quindi ora vacanza, andremo a trovare gli amici a Parigi al PPO Club per qualche giorno, e a Gennaio si ricomincia per i prossimi CMAS Games, e spero di poter partecipare anche ai World Games, ma non ne sono sicuro, tutto ciò che voglio è migliorarmi per poter gareggiare con tutti gli altri atleti di altissimo livello.
Hai altro da aggiungere?
Amo questo sport, mi piace nuotare tutti i giorni, viaggiare e incontrare tanti amici, direi che è perfetto per me, anche se l'anno scorso abbiamo avuto molti problemi nella nostra regione, ma il Nuoto Pinnato è qualcosa di cui ho bisogno, è una parte della mia vita, e penso sia la parte migliore, sono molto felice e per fare ciò che faccio tutti i giorni, quindi voglio ringraziare chiunque mi abbia aiutato in questo sporte in questo modo mi ha aiutato anche come persona.
[fbvideo id="10151337880467160″ width="580″ height="326″]
Questo il video dei 100 np E 200 NP, più tardi cercheremo di pubblicare gli altri.
Help us! Send information and results about Finswimming events and championships!