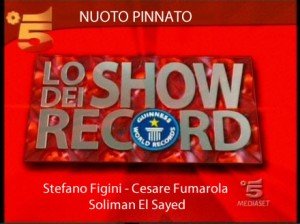 This is for our International Friends who cannot watch the Italian TV Channel "Canale 5 by Mediaset". You can look at the "Show dei Record" in which there will be the trial for the Guinnes Record of Stefano Figini, Cesare Fumarola and Soliman El Sayel. The test will be to jump out of the water and touch an object placed at different heights. So stay tuned tomorrow May 5th at 09.10 pm (use this World Time Zone Converter to check your time and select Italy – Rome 9.10 pm) and enjoy!
And…the winner is…BOTH OF THEM!!! In fact, after a closed fight, they reached the heigth of 2mts! Tomorrow we will publish the video with the show!
Help us! Send information and results about Finswimming events and championships!