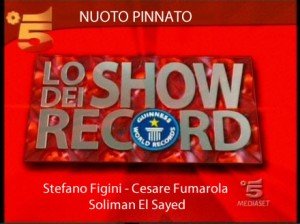 Finally all of you can watch the last episode of "Lo Show dei Record" (transalted is The Show of the Records) in which our Sport was one of the players! In fact Stefano Figini, Cesare Fumarola and Soliman El Sayed burned the waters of the Lido Azzurro Swimming Pool of Varedo breaking the new Guinnes World Record, jumping out of the water with 2 mt! We can easily say that They really were able to jump also 2.20 mt but the last jump was too high to touch (2.30 mt). So let's watch the show and enjoy it!
We want to underline that the Show was seen by more that 5,5 Millions televiewers, that is 22,13% of the total!!!
Help us! Send information and results about Finswimming events and championships!