He is the king of South American News about Underwater Activities. He started with Finswimming but then he discovered all the related sports, like diving, underwater rugby, hockey and much more. He is the boss of Sportalsub.net, one of the most famous Underwater Magazine all around the World. We are speaking about Miguel Alberto Cedeño. Let's know him!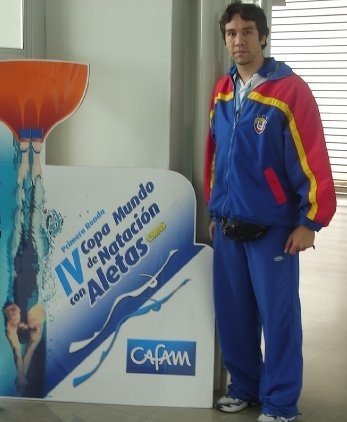 Hello Miguel, I think a lot of people know that you manage the most important Finswimming and Underwater Activities South American Magazine, Sportalsub.net. Tell us when and why did you choose to start it. Are you satisfied of your Web Site?
Hello Dave, thanks for everything we did for Finswimming in these years. The main idea, when we created our web site in 2001, was to have a place where we could publish Finswimming and Underwater News in Spanish Language, located in the South America, because there was no information before. Before, I started to practice underwater activities in 1999 abd I attended a CMAS Immersion Course, and I was a competitive Finswimmer in my country (Venezuela) and we started to playe also Underwater Rugby, all this in the CASA-UCV Club, where I "work" at the moment, mainly as Trainer. With my Team Mate Ronald Laurens, member of the National Apnea Team of Venezuela, we had the idea to create this Web Site for the diffusion of these sports. Now, 8 years later, we are very satisfied about our job and the growing in all the countries, we think that Sportalsub.net is reaching his main target.
What is your main job? And how do you mix your work and your hobbies like practice sports and manage your Web Site?
Since Monday until Friday I work in the day, 8 am-5 pm in a Web Design Company and in the evening 7pm-9pm as a Finswimming and Apnea Trainer at the "Centro de Actividades Subacuáticas de la Universidad Central de Venezuela (CASA-UCV)", but I don't see it as a work, because I like it so much, I can teach young boys to Finswim and to play Rugby. Anyways, I try to keep in shape by running 2-3 times per week. And 1-2 times per week I also play Underwater Rugby with my team, so I'm a player and trainer in the same time. On Saturdays, we organize some activities at the Swimming Pool: apnea, finswimming, underwater rugby, underwater hockey or aquahtlon (underwater fight) and some Sundays per month, I compete at a 10Kilómetros race, that are very popular in Venezuela. Usually the week ends are for competitions, always about underwater activities and with a lot of my Team Mates. Time to work on Sportalsub.net? always less, anyways, usually on nights, early mornings or week ends. I always browse the net looking for informations and news about our Sports.

What do you like and what do you don't like in the Finswimming World?
I think that in the last years Finswimming grew up a lot in the World, is a sport that is always praticed more and more, we are growing faster and faster that the classical swimming, for this I follow thios sport not as a Swimmer, but as a Trainer. As Swimmer I like it because of the speed I can reach! Anyways it a sport that asks soo much from an athlete, I remember the pein at my feets, especially when i used to swim 6km, this is what I don't like of this sport…the pain!, But i always saw wghat I like of it, and not what I don't. A thing that I don't like is that Finswimming is very known in the Europe and Asia, so for us it's very difficult to get Monofins, Bottles, etc. And also the International Competitions are organized in the Old Continet, but with work and experience we are reaching, we are able to organize some nice event here too. Since some years CMAS Zona América is growing and countries like Colombia, Venezuela, Ecuador, Chile, México and Cuba are working to have more and more International Events like the "Campeonato Continental" every 2 years and I think that it's a good way to start, to cut distances gaps.

When did you discover Finswimming? Did you practice any other sports before? Do you now?
I first heard about finswimming when I started with CASA-UCV, looking more for a recreational sport than for a competitive one. Even though, getting to know the sport, searching the internet for related information, I started to like it more and more. I have been practicing with bifins for one year when, in the year 2000, I could finally get my first monofin. From childhood on I practiced classic swimming, not at a high level, but at a school and regional competition level, as I did with the national sport of my country, baseball. When I was a child my father always encouraged me to practice sports, to ride bycicles, or accompany him at jogging. Nowadays I keep practicing Underwater Rugby, at a competitive level. Finswimming (bifins) and apnea are part of the training. For two years I've been competing in 10 kilometer races, which keeps me motivated to continue training. From 2005 to 2008 I studied to work as a technician in physical conditioning and I learned that sport does not always have to be focused on competing and that physical activity, because of all the benefits it has for our health, should be part of our life no matter the age. That is what I try to do for myself and the team which is training in my club. Now we are also starting two more underwater sports which interest me, underwater hockey and aquathlon (or underwater wrestling).

I know you are interested in every CMAS activities like Underwater Rugby, Finswimming, Apnea etc etc, but tell us which is your favourite one and why.
It's very difficult to choose a my favourite sport, everyone of them is interesting, this is the reason I played all of them, at competitive or recreational level, as a sportman, and as a trainer. For this reason Sportalsub.net is a open page to every underwater activity.

This is a controversial topic … but I want to ask you anyway … What is the main thing that finswimming needs to get into the Olympics? Do you think this will happen anytime soon?
It is a complicated subject. Ever since I found out about finswimming in 1999, I have heard that it is going to be included in the next Olympic games (Sydney 2000) as an olympic discipline and after that I heard it in each Olympic cycle. At least that is what people said. Nevertheless, talking with Roberto Lolli last year in Neiva, Colombia and according to what I have been able to find out about the necessary requirements for a sport to be included in the Olympic Games, finswimming still doesn't fulfill some of those requirements. It probably won't happen for at least another two Olympic Games (London 2012 and Rio de Janeiro 2016). Nevertheless, I think in order for finswimming to be included in the Olympic Games, it is neccessary that more countries with potential in traditional aquatic sports, such the USA in North America, Brazil in South America and Australia in Oceania develop the sport. Through their connections they can apply more and more pressure and, most importantly, promote the sport, for it to be more recognized internationally. We have an advantage: CMAS is recognized by the International Olympic Committee! Nevertheless, the sport must become more popular in more countries in the world.

How popular is finswimming in your country, Venezuela?
In the last decade it has become a growing sport, and though we participated in the World Championship in the year 2000 (San Andres 1998 and Palma de Mallorca 2000) and were active in national competitions and championships, we only started again in the years 2005-2006 with regional competitions. From my work as an athlete between 2000 and 2005, and working with the Venezuelan Federation between 2006 and 2008 as a trainer and sports manager, I feel that we have opened the door so that the sport can be spread more and more throughout the country. Venezuela has already participated, although with only a few athletes, in three consecutive World Championships (Bari 2007, Neiva 2008 (Junior) and St. Petesburgo 2009) as well as in several rounds of the World Cup this year. Though there is still a lack of structure, the sport continues growing. We are already working with schools for children categories and thanks to interchanges with Colombia we have been advancing and thinking about a better development of the sport in the future.

Do you think that bi-fins will help Finswimming to get more popular in the World?
The inclusion of the Bifins at World Championships, helped to get this sport more popular, more in our coutries, where the access to the Monofins is difficult, for the price, and for their availability, this is a way to catch more classical swimmers, anyways, I think that the main target is to follow the main thing in this sport: the Monofin. But Bifins make the competitions more interesting, because of maybe the only presence of the Monofin caould get ppl bored. I think that Bifins can improve other sports, like Rugby and Hockey. I have only a thing against Bifins competitions. The Snorkel should be mandatory.

Who is you favourite Finswimmer (past or present) and why?
I have 3 fav finswimmers. Of the past: Konstantin Koudriaev, and thanks to him I could learn Finswimming, but only by videos. I remember it was 2000 when I got the movie (VHS) of Finis monofins, where Pablo Morales with Constantine were explaining technics, he had a very impressive movement and technics. It was to teach basics of this sport. I can say that he was the teacher that everyone wants to have.
Of the present: Male: Stefano Figini. I met him at the 1ra Ronda de la Copa del Mundo de Bogotá, but for Languages differences we cannot talk so much, his results speaks for him.
Female: Alix Victoria Pérez, of Colombia: I knew her in Colombia in2007, like his trainer Andrés Valderramathat I knew in 2003 during my first visit to Bogotá. She has various National and Panamerican Records on short distances, she is a good friend and she is first at the ranking of CMAS World Cup.

Tell us something you want to say (free topic)
I want to thank Davide Manca for the chanche to make known our work at Sportalsub.net and for all the informations about finswimming that we shared in these 8 years. I believe that the work we do to make Finswimming bettere should only go on this way and I invite all those who continue to make physical activity and sport in any way better if underwater. We hope to continue on this way for long time and continue sharing infos about underwater activities with you all. Do not forget to visit www.sportalsub.net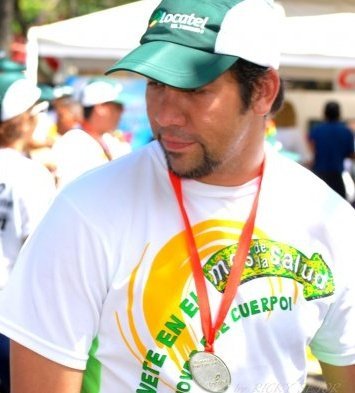 Ciao Miguel, penso che tutti sappiano che sei il responsabile del Magazine Sudamericano sul Nuoto pinnato e Attività Subacquee, Sportalsub.net. Come mai hai intrapreso questa strada? Sei soddisfatto del tuo sito?
Ciao Dave, ti ringrazio per il riconoscimento di quello che abbiamo realizzato in questi ultimi anni con Sportalsub.net. L'idea iniziale di creare un sito web nel 2001, era di avere un posto unico per convogliare le notizie del Nuoto Pinnato e Attività Suqacquee in lingua spagnola e dirette principalmente ai paesi sudamericani, per la carenza di informazioni che esisteva per i molti dei quali praticavano queste attività. A quel tempo, avevo cominciato con le attività subacquea nel 1999 e ho seguito un corso di apnea, corsi d'immersione CMAS *, praticavo il Nuoto Pinnato agonistico (Venezuela) e abbiamo iniziato a praticare Rugby, il tutto nel club CASA-UCV, dove sto lavorando ora, ora principalmente come allenatore. Con il mio compagno di squadra Ronald Laurens, un membro della Squadra nazionale di Apnea del Venezuela, ha avuto l'idea di creare questo sito per contribuire alla diffusione di informazioni per la maggior parte delle persone e quindi condividere la nostra passione per le attività subacquee, con sempre più persone. Oggi 8 anni più tardi, siamo soddisfatti del lavoro che abbiamo fatto e la crescita che abbiamo visto nei nostri paesi, siamo convinti che Sportalsub.net ha raggiunto questo obiettivo che ci siamo posti inizialmente e quindi ciò ci motiva a continuare il nostro lavoro.
Qual è il tuo lavoro principale? E come fai a gestire il tuo tempo tra il lavoro e il sito?
Dal lunedì a venerdì lvoro di giorno, dalle 8 am alle 5 pm in una società di "web design" e di sera, dalle 7pm alle 9pm come allenatore di Rugby Subacqueo e Nuoto Pinnato presso il "Centro de Actividades Subacuáticas de la Universidad Central de Venezuela (CASA-UCV)", comunque fare l'allenatore per me non è un lavoro, mi diverte e mi riempie di grande soddisfazione insegnare e condividere le attività subacquee, direttamente con il gruppo di atleti che alleno. E, durante la settimana cerco di fare qualche attività fisica come il jogging 2 o 3 volte la settimana (30min-1 ora) e a volte lascio l'ufficio prima per poter andare in piscina. In più un paio di volte alla settimana mi butto in acqua con il Rugby dove sono anche giocatore, oltre che allenatore. Mentre nei Sabato, facciamo alcune attività e pratiche sportive e ricreative in piscina: apnea, nuoto pinnato, il rugby subacqueo, hockey subacqueo o aquahtlon (lotta subacquea) e alcune domeniche al mese, gareggiamo in corse su strada 10Kilómetros, che sono sempre più popolari nel mio paese. I week-end sono di solito dedicati a sport e al tempo libero, sempre legati alle attività subacquee con molti dei miei compagni di club. Tempo per seguire Sportalsub.net? Di notte, quando torno a casa, tempo libero durante il fine settimana, o la mattina presto. Navigo in rete per cercare aggiornamenti e grazie al contributo di molti visitatori che riceviamo informazioni da molte delle attività subacquee che si stanno verificando nel mondo.

Cosa ti piace e cosa non ti piace nel Mondo del Nuoto Pinnato?
Credo che negli ultimi anni il Nuoto Pinnato è cresciuto nel mondo, è uno sport che è sempre più praticato e continua a sorprenderci, quando vediamo i risultati degli atleti, i record del mondo che si ottengono rispetto al nuoto classico, così anche se io sono ancora un atleta attivo, seguo molto da vicino ciò che accade a livello Mondiale. Da atleta, mi è sempre piaciuto essere in grado di andare sempre più veloce in acqua con la monopinna, ma è comunque uno sport di molti sforzi fisici, ricordo molto dolore ai piedi, soprattutto quando dovevo fare i 6000 metri, ecco questa era una cosa che non mi piaceva affatto, ma senza le cose che mi piacciono nel Pinnato sono più di quelle negative! Una delle cose che abbiamo dovuto combattere, è che questo sport è in gran parte dominato e sviluppato in Europa e in Asia e quanto sia difficile per noi, in Sud America è recuperare le attrezzature, monopinne, bombole, ecc … nei nostri paesi. Inoltre, gli eventi più importanti si tengono al di fuori del continente, Campionati Mondiali, Coppe del Mondo, ma con lo sviluppo che c'è stato in Colombia, i risultati internazionali e l'organizzazione di eventi a livello mondiale ci ha permesso di graduale l'integrazione nello sport. Da molti anni, si stanno compiendo sforzi per consolidare la CMAS America e paesi come la Colombia, Venezuela, Ecuador, Cile, Messico e Cuba stanno lavorando per ottenere più eventi a livello continentale, rafforzare la Coppa America come il nostro CMAS World Championship ogni 2 anni e stiamo andando in un buon modo per cercare di accorciare la distanza, ad eccezione della Colombia, abbiamo gli altri paesi dell'America Latina in questo sport.

Quando hai conosciuto il Nuoto Pinnato per la prima volta? Hai praticato altri sport prima? E adesso?
Ho scoperto il Nuoto Pinnato nel 1999 quando sono entrato nella cerchia del CASA-UCV, prima di tutto cercando uno sport per svagarmi e non con intenzioni agonistiche; tuttavia per conoscere lo sport, ho cercato su internet di cosa si trattava, ed ha iniziato a piacermi sempre di più. Ho trascorso un anno di pratica con le Bipinne nel 2000, quando finalmente ho acquistato la mia prima monopinna. Da bambino e adolescente, ho praticato nuoto classico, non un livello elevato, ma scolasticamente e a livello regionale, come anche nello sport nazionale nel mio paese, il Baseball. Mio padre mi ha incoraggiato a fare sport quando ero piccolo, andavo in bicicletta o fare jogging con lui. Ora mi mantengo ad un livello competitivo praticando rugby, Nuoto Pinnato (Bipinne) e apnea sono parte integrante del mio allenamento e da 2 anni corro nelle gare dei 10 km, questo mi tiene motivato a continuare l'allenamento. Dal 2005 al 2008 ho studiato Fitness Tecnico e lì ho imparato che lo sport non deve essere per forza una competizione e che la pratica dell'attività fisica deve essere parte della nostra vita a tutte le età, da tutti i benefici che è per la nostra salute. Questo è quello che cerco di applicare per me e per il team di coach ho nel mio club. Ora stiamo iniziando ad interessarci anche ad altre due discipline subacquee, hockey subacqueo e aquathlon subacquea.

So che sei interessato a tutte le attività CMAS come il Rugby Subacqueo, il Nuoto Pinnato, l'Apnea etc etc…ora vorremmo sapere qual è la tua preferita e perchè.
E' difficiledire quale delle attività subacquee è la mia preferita, per come la vedo ci sono cose interessanti in ogni sport, credo per è per questo che le ho praticate tutte, sia come svago sia agonisticamente, e quindi anche come insegnante per condividerle con le altre persone. Per tale motivo Sportalsub.net è una pagina aperta a tutte le attività CMAS.

Ora passimo ad un brutto argomento…Qual è la principale cosa di cui il Nuoto Pinnato ha bisogno per entrare alle olimpiadi? Pensi che possa succedere presto?
Si tratta di una questione complessa, perché da quando sono nell'ambiente, nel 1999, ho sentito che sarebbe stato incluso nella prossime Olimpiadi (da Sydney 2000) come sport dimostrativo e così via ogni ciclo olimpico, almeno questo è quello che la gente ha sempre commentato. Tuttavia, parlando con Roberto Lolli l'anno scorso a Neiva, Colombia, e dopo che ho svolto ricerche, i requisiti per uno sport da inserire alle Olimpiadi sono tanti e il Nuoto Pinnato ne deve soddisfare ancora troppi prima che possa essere incluso nei Giochi Olimpici. Questo probabilmente non accadrà, almeno nelle prossime 2 Olimpiade (Londra 2012 o Rio de Janeiro 2016). tuttavia credo che ciò che serve di più è la diffusione di questa attività in tutto il mondo soprattutto gli stati più importanti come l'Australia e gli Stati Uniti, sono loro che possono spingere maggiormente per l'ingresso alle olimpiadi. Noi abbiamo un vantaggio, CMAS è riconosciuta dal Comitato Olimpico Internazionale, tuttavia, lo sport deve diventare sempre più popolare in molti paesi.

Come è visto il Nuoto Pinnato nella tua nazione, il Venezuela?
Negli ultimi dieci anni questo sport è cresciuto molto, dal 2000 abbiamo preso parte a campionati del mondo (1998 San Andres e Palma di Maiorca 2000) e la nostra competenza in materia è sempre cresciuta e ai campionati nazionali dal 2005 -2006 sono stati nuovamente partecipanti a competizioni regionali. Nel mio lavoro da atleta tra il 2000 e il 2005, e nella collaborazione con la Federazione Venezuelana tra il 2006 e il 2008, come allenatore e dirigente sportivo, ritengo che abbiamo aperto le porte alla nazione.Il Venezuela ha partecipato, anche se con pochi atleti, in 3 Campionati del Mondo consecutivi (Bari 2007, Neiva 2008 (Junior) e San Pietroburgo 2009) e quest'anno in più tappe della Coppa del Mondo. Ci sono ancora tanti problemi per le strutture sportive, ma lo sport continua a crescere. Stiamo già lavorando con le scuole in Colombia e le aspettative si sono spostate in avanti per poter avere un migliore sviluppo futuro dello sport.

Pensi che le Bipinne aiuteranno il Nuoto Pinnato a diventare più popolare nel Mondo?
L'inclusione delle bipinne ai campionati del mondo, ha contribuito a rendere più popolare lo sport, soprattutto nei nostri paesi, dove l'accesso alla Monopinna è difficile sia per il costo sia per la poca disponibilità. Le Bipinne sono un modo per catturare più atleti, però, credo che l'obiettivo è quello di incoraggiare ulteriormente lo sviluppo di quello che è stata l'attrazione principale di questo sport, la monopinna. Inoltre, dà una maggiore varietà per il pubblico, un programma con sole gare con la Monopinna potrebbe diventare noioso per gli spettatori. Penso che le Bipinne possano anche favorire lo sviluppo delle altre specialità, come Rugby e Hockey. Ho solo una cosa da dire per le Bipinne. Dovrebbe essere reso obbligatorio l'uso del Boccaglio Frontale, poichè in quanto Attività Subacquea il boccaglio ci distingue dal resto.

Chi è il tuo atleta preferito (presente o passato) e perchè?
Ci sono 3 Nuotatori che preferisco. Dal passato: Konstantin Koudraiev, perché grazie a lui ho potuto imparare a nuotare con le pinne, ovviamente non di persona. Mi ricordo nel 2000 ebbi il video (VHS) della monopinna Finis, dove Pablo Morales con Konstantin che spiega le tecniche, è stato davvero interessante, aveva una facilità di movimento davvero unica.Uso ancora questo video per insegnare le basi di questo sport. Diciamo che era l'Allenatore a distanza, per coloro che non ce l'avevano a portata di mano.
Nel presente: maschile: Stefano Figini. Ho potuto incontrarlo di persona quest'anno nel 1 ° round della Coppa del Mondo a Bogotà, ma per ovvie ragioni di lingua non abbiamo potuto parlare molto, i suoi risultati parlano da soli e penso che ci sia ancora molto da fare.
Femmine: Victoria Alix Perez della Colombia: l'ho conosciuta personalmente in Colombia nel 2007 e anche suo marito e allenatore Andres Valderrama che ho incontrato durante la nostra prima visita a Bogotà nel 2003. Ha diversi record nazionali e Pan Americani su brevi distanze, è una grande amica, e quest'anno ha preso il primo posto nella classifica di Coppa del Mondo CMAS.

Dicci quello che ti passa per la testa (argomento libero)
Apprezzo l'opportunità che mi da Finswimmer Magazine per pubblicizzare il lavoro che abbiamo sviluppato con Sportalsub.net in tutti questi anni e di condividere questa passione per il Nuoto Pinnato e lo scambio di informazioni tra il nostro sito e Finswimmer.com per oltre 8 anni. Credo che il lavoro che facciamo che spinge questo sport sempre in una posizione migliore nel mondo dello sport dovrebbe solo andare avanti e invito tutti coloro che continuano a fare attività fisica e lo sport in ogni modo, se meglio sott'acqua. Speriamo di continuare su questa strada per molto tempo e di condividere la nostra passione per le Attività Subacquee con tutti voi. Non dimenticate di visitare www.sportalsub.net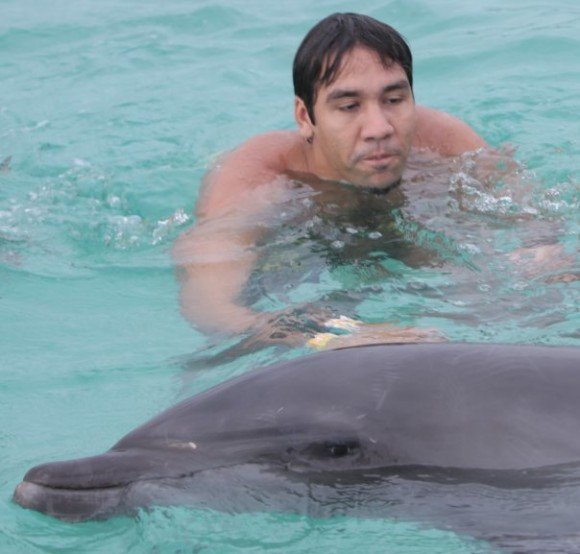 Hola Miguel, muchas personas saben que tu manejas el sitio web más importante sobre natación con aletas y actividades subacuáticas en Suramérica. Háblanos de cuando y por qué lo iniciaste. ¿Estás satisfecho con tu sitio web?
Hello Dave, gracias por el reconocimiento al trabajo que hemos realizado con Sportalsub.net en estos últimos años. La idea principal de crear un sitio web en el año 2001 cuando publicamos nuestra página web, era tener un sitio en internet que agrupara noticias de natación con aletas y actividades subacuáticas en habla hispana y dirigidas principalmente a los países de suramérica, por la falta de información que existía para muchos de quienes en ese momento practicábamos estas actividades. En ese entonces, yo me había iniciado en las actividades subacuáticas en el año 1999 y había realizado un curso de apnea, curso de Buceo CMAS*, practicaba la natación con aletas de manera competitiva en mi país (Venezuela) y empezábamos a practicar el Rugby Subacuático, todo esto en el club CASA-UCV, donde actualmente sigo trabajando, ahora principalmente como entrenador. Con mi compañero de club Ronald Laurens, integrante de la Selección Nacional de Apnea de Venezuela, tuvimos la idea de crear este sitio que contribuyera a la difusión de la información a la mayor cantidad de personas y de esta forma compartir nuestra afición por las actividades subacuáticas con cada vez más y más personas. Hoy en día 8 años después, nos sentimos satisfechos por el trabajo que hemos realizado y el crecimiento que hemos visto en nuestros países, creemos que Sportalsub.net está cumpliendo ese objetivo que inicialmente nos trazamos y por esta razón nos motivamos a seguir con nuestro trabajo.
¿Cuál es tu trabajo principal? ¿Y como tu compartes tu trabajo y tus hobbies como practicar deportes y manejar tu sitio web?
De lunes a viernes trabajo en el día, de 8 am a 5 pm en una empresa de diseño y desarrollo web y por las noches, de 7pm a 9pm como entrenador de Rugby Subacuático y Natación con Aletas en el Centro de Actividades Subacuáticas de la Universidad Central de Venezuela (CASA-UCV), sin embargo mi trabajo como entrenador de actividades subacuáticas no lo veo como trabajo, ya que me divierte y me llena de gran satisfacción poder enseñar y compartir las actividades subacuáticas directamente con el grupo de deportistas a los que entreno. Sin embargo, durante la semana trato de realizar algunas actividades físicas como trotar 2 o 3 veces por semana entre 30min y 1 hora al salir de la oficina y antes de trabajar en la piscina. 1 o 2 días estoy en el agua con el equipo de rugby subacuático donde también soy jugador, además de entrenador. Los días sábados, realizamos algunas actividades y entrenamientos deportivos o recreativos en la piscina: apnea, natación con aletas, rugby subacuático, hockey subacuático o aquahtlon (lucha subacuática) y algunos domingos al mes, compito en carreras de calle de 10Kilómetros, las cuales son cada vez más populares en mi país. Los fines de semana generalmente son dedicados al deporte y la recreación, siempre ligados a las actividades subacuáticas y con muchos de mis compañeros de club. Tiempo para trabajar con Sportalsub.net? cada vez menos, sin embargo, en las noches al llegar a mi casa, ratos fines de semana, o muy temprano en la mañana, puedo actualizar el sitio. Siempre estoy navegando en busca de información actualizada y gracias a los aportes de muchos visitantes, nos llega información de muchas de las actividades subacuáticas que se están realizando en el mundo.

¿Qué te gusta y qué no te gusta en el mundo de la Natación con Aletas?
Creo que la Natación con Aletas ha crecido mucho en el mundo en estos últimos años, es un deporte que cada vez es más practicado y no deja de sorprendernos, cuando vemos los resultados de los tiempos de los deportistas, los récords mundiales y los tiempos que se logran en comparación a la natación clásica, por eso aunque no sigo siendo deportista activo, sigo enseñándolo y siguiendo de cerca lo que se está realizando a nivel mundial. Como deportista, siempre disfruté el hecho de poder ir cada vez más rápido en el agua con una monoaleta, sin embargo es un deporte de muchas exigencias físicas, recuerdo mucho los dolores en los pies, sobre todo cuando competía en eventos de 6000 mts en mi país, eso era algo que no me gustaba del deporte, pero sin lugar a dudas siempre ha sido más lo que me gusta que lo que no me gusta de la natación con aletas. Una de las cosas con las que nos ha tocado luchar, es que este deporte es principalmente dominado y desarrollado por Europa y Asia y lo dificil que resulta para nosotros en Suramérica adquirir los equipos, monoaletas, tanques, etc… en nuestros países. Además que la mayoría de los eventos importantes se realizan fuera de nuestro continente, Campeonatos Mundiales, Copas del Mundo; sin embargo, gracias al desarrollo que ha tenido Colombia, sus resultados internacionales y con la organización de eventos mundialistas, nos ha permitido poco a poco integrarnos más al deporte. Desde hace varios años se están haciendo esfuerzos por consolidar la CMAS Zona América y países como Colombia, Venezuela, Ecuador, Chile, México y Cuba estamos trabajando por realizar más eventos a nivel continental, consolidar la Copa CMAS Zona América como nuestro Campeonato Continental cada 2 años y creo que vamos en un buen camino, para tratar de acortar la distancia, que exceptuando Colombia, tenemos el resto de países de Latinoamérica en este deporte.

¿Cuando descubriste la natación con aletas? ¿Practicaste otros deportes antes? ¿Y en la actualidad?
Conocí la natación con aletas en 1999 cuando ingresé al CASA-UCV, buscando un deporte de recreación mas que todo y no con un objetivo competitivo; sin embargo al ir conociendo el deporte, investigando en internet de que se trataba, me fue gustando cada vez más. Estuve un año practicando con bialetas cuando en 2000 por fin pude adquirir mi primera monoaleta. De niño y adolescente practiqué natación clásica, no a un alto nivel, sino a nivel de competencias escolares y regionales, al igual que el deporte nacional de mi país Baseball. Desde niño mi padre siempre me motivó a practicar deporte, montaba bicicleta o lo acompañaba a trotar. Ahora a nivel competitivo sigo practicando el Rugby Subacuático, la natación con aletas (bialetas) y apnea son parte del entrenamiento para esto y desde hace 2 años compito en carreras de 10 Kilómetros, lo que me mantiene motivado a seguir entrenando. De 2005 a 2008 realicé mis estudios como Técnico en Acondicionamiento Físico y allí aprendí que el deporte no siempre tiene que ser enfocado competitivamente y que la práctica de la actividad física, debe formar parte de nuestra vida en todas las edades, por todos los beneficios que tiene para nuestra salud. Eso es lo que trato de aplicar para mí y para el equipo que entreno en mi club. Ahora estamos también incursionando en otros 2 deportes subacuáticos que me llaman la atención practicar, el hockey subacuático y el aquathlon o lucha subacuática.

Sabemos que estás interesado en las actividades CMAS como Rugby Subacuático, Apnea, Natación con Aletas, etc… pero cuentanos cual es tu favorita y por qué.
Definir una modalidad de las actividades subacuáticas como mi favorita es difícil, ya que veo cosas interesantes en cada una de ellas, creo que por eso he podido practicar la mayoría, tanto a nivel competitivo como recreativo y en todas ellas he disfrutado, tanto realizarlas como deportista, como enseñarlas y compartirlas con más persona. Por esa razón Sportalsub.net es una página abierta a todas y cada una de las modalidades.

Este es un mal argumento, pero quisiera preguntártelo de todas formas. ¿Qué es el aspecto más importante que necesita la Natación con Aletas para estar en los Juegos Olímpicos? ¿Tú piensas que eso será pronto?
Es un tema complicado, desde que conozco natación con aletas en 1999, he escuchado que va a ser incluida en los próximos juegos olímpicos (desde Sydney 2000) como deporte de exhibición y así cada ciclo olímpico, al menos es lo que la gente siempre ha comentado. Sin embargo, conversando con Roberto Lolli el año pasado en Neiva, Colombia y según lo que he podido investigar sobre los requisitos necesarios para que un deporte pueda ser incluido en las olimpiadas y aún faltan varios para que la natación con aletas sea incluida. Esto probablemente no ocurrirá al menos en las 2 próximas olimpiadas (Londres 2012 o Rio de Janeiro 2016). Sin embargo, yo pienso que para que Natación con Aletas ingrese a Juegos Olímpicos, necesitamos que más países con potencial en Deportes Acuáticos tradicionales, tanto de América como Oceanía (USA, Australia, Brasil) desarrollen el deporte y puedan, a través de sus federaciones, hacer cada vez más presión y principalmente, promoción del deporte, para que este pueda ser más tomado en cuenta internacionalmente. Tenemos una ventaja, CMAS es reconocida por el Comité Olímpico Internacional, sin embargo, el deporte debe ser cada vez más popular en más países del mundo.

¿Cómo es vista la Natación con Aletas en tu país, Venezuela?
En la última década ha ido creciendo el deporte, y aunque ya para el año 2000 se había tenido participación en Campeonatos Mundiales (San Andrés 1998 y Palma de Mallorca 2000) y se venía desarrollando la actividad con competencias y campeonatos nacionales, desde el año 2005-2006 hemos nuevamente venido participando en competencias regionales. Desde mi labor como deportista entre 2000 y 2005, y trabajando con la Federación Venezolana entre 2006 y 2008 como entrenador y dirigente deportivo, siento que hemos abierto la puerta para que el deporte sea cada vez más difundido en el país, ya Venezuela ha tenido participación, aunque con pocos atletas en 3 Campeonatos Mundiales seguidos (Bari 2007, Neiva 2008 (Junior) y St. Petesburgo 2009) así como este año en varias rondas de la Copa del Mundo. Aún falta mucha estructura, pero el deporte sigue creciendo. Ya estamos trabajando con escuelas desde categorías infantiles y gracias a intercambios con Colombia hemos ido avanzando y pensando en un mejor desarrollo del deporte a futuro.

¿Piensas que las bi-aletas ayudarán a la Natación con Aletas a ser más popular en el mundo?
La inclusión de las bialetas en los campeonatos mundiales, ha ayudado a popularizar el deporte, sobre todo en nuestros paises, donde es dificil el acceso a las monoaletas, tanto por el costo, como por la disponibilidad de las mismas, es una manera de captar más nadadores clásicos, sin embargo, creo que el objetivo fundamental es seguir impulsando el desarrollo en lo que ha sido el atractivo principal de este deporte, las pruebas de monoaleta. Además, le da más variedad a las competencias, un programa con solo pruebas de monoaleta podría llegar a ser aburrido para un espectador. También veo la incluisión de las bialetas como una vía a que se practiquen otras modalidades subacuáticas, como rugy y hockey. Un solo detalle con respecto a las pruebas de bialetas, pienso que debería ser obligatorio el uso del snorkell para todas las pruebas, ya que por ahora es opcional, creo que no se debe perder la escencia de que somos una modalidad subacuática y el snorkell es lo que lo puede distinguir así.

¿Quién es tu nadador con aletas favorito (pasado o presente) y por qué?
Tengo 3 nadadores con aletas favoritos. Del pasado: Konstantin Koudraiev, ya que gracias a él pude aprender la natación con aletas, obviamente no en persona. Recuerdo en el año 2000 pude conseguir el video (VHS) de monoaletas Finis, donde Pablo Morales junto a él explicaban las técnicas, era realmente impresionante para mí ver la facilidad de movimiento que tenía. Aún utilizo el video para enseñar aspectos básicos del deporte. Digamos que fue el maestro a distancia que muchos que no tuvimos un entrenador de natación con aletas tuvimos.
Del presente: Masculino: Stefano Figini. Pude conocerlo en persona este año en la 1ra Ronda de la Copa del Mundo de Bogotá, aunque por temas del idioma no pudimos conversar mucho, sus logros y resultados hablan por sí mismos y creo que aún queda mucho que ver de él.
Femenino: Alix Victoria Pérez, de Colombia: también la conocí personalmente en Colombia en 2007, así como a su esposo y entrenador Andrés Valderrama a quien conocí en 2003 en nuestra primera visita a Bogotá. Ella posee varios récords nacionales y panamericanos en distancias cortas, es una gran amiga y este año logró el primer lugar en el ranking de la Copa del Mundo CMAS.

Háblanos de cualquier cosa que quieras decirnos
Agradezco la oportunidad que me ha dado Davide Manca para dar a conocer el trabajo que hemos desarrollado con Sportalsub.net y todos estos años y compartir esta afición por la natación con aletas y las informaciones que entre nuestro sitio y Finswimmer.com hemos intercambiado ya por más de 8 años. Creo que la labor que desarrollamos quienes queremos ver este deporte cada vez mejor posicionado en el ámbito deportivo mundial debe seguir adelante y simplemente invito a todas aquellas personas que sigan realizando actividad física, deporte en cualquier forma y si es subacuático mucho mejor. Esperamos seguir en este camino por mucho tiempo más y seguir compartiendo las actividades subacuáticas con todos ustedes. No olviden visitar www.sportalsub.net
Help us! Send information and results about Finswimming events and championships!