In the last months we are continuously seeing a lot of pictures about Finswimming Statistics, something that honestly our dear sport, Finswimming, was needing since very long time. At the moment you can check his material only by visiting his Instagram page, called FinswimmingStats: https://www.instagram.com/finswimmingstats/
But have you ever wondered who is doing this incredible work? We did, and asked him to make an interview. So let's introduce you Tim Willruth from Berlin, Germany.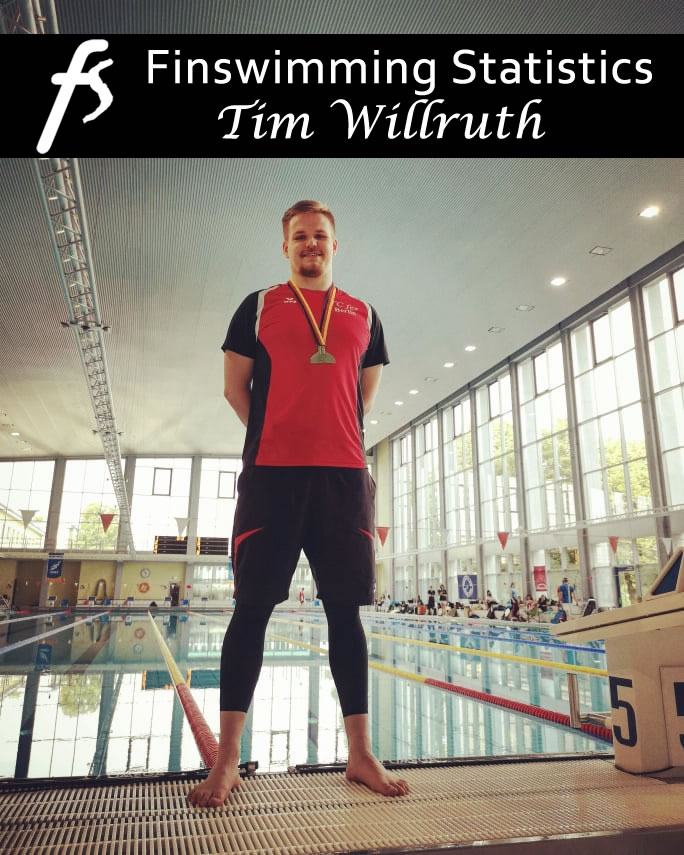 Hello Tim. Tell us something about you, who you are, where you are from and what you do in your life.
Hello, I'm Tim Willruth, 25 years old and coach of the club TC fez Berlin from Germany.
In 2012 I started my career in Finswimming at the age of 17. After 3 1/2 years I qualified for the german national team and participate in the World Championships 2016 in Volos, Greece.
Now, after another 3 1/2 years, I finished my bachelor in sport science and became the head coach of all Berlin finswimmers.
Finswimming Statistics, or simply finswimmingstats, why did you start this project?
After our czech friend Josef Cimburek handed me his project "World Ranking of the season" in 2018 I thought this can't be the only thing which is interesting in our sport.
I searched in social media for suitable statistics and tables from other sports and created my own style of presentation.
Especially the comparison of the fastest times of all years since finswimming is a competition sport, is really exciting for me.
Also many many nations have clubs and teams of finswimming and doing a really great job to improve their skills and performances, but maybe nobody knows and heard about it.
I want to help with their development because it shows the expansion of finswimming in the world!
What do you think about Finswimming on the internet? Do you think we can compete with other sports coverage?
It's absolutely clear that Finswimming can't consist of big sports like Football, Athletics or maybe winter sports in general, but the present beside other side sports/not olympic sports is increasing.
Young people grow up with the internet and technical understanding. Most of all young finswimmers use at least one social media like Instagram to present themself. Everyone is proud of our sport and presents it to their followers and the whole world.
If they would start to make campaigns for their clubs or maybe the national teams of their country, the present of finswimming would increase really fast.
What is missing from our sport on the internet?
In modern times the technology develops to simplify applications and implementations. It's easier to make an audio file with WhatsApp than writing the same information to your friends. Many people make videos of unimportant things like eating and present them on their social media profiles. Why not do the same with finswimming?
To present our sport we need more videos of finswimming. Everyone has a smartphone and could easily film the process of the finswimming technique, starts and turnovers, special athletic exercises for finswimming or maybe funny clips with a monofin.
Also we need a better introduction of our best male and female athletes of the world. Everyone knows Michael Phelps or Messi. We have people who have similar achievements in finswimming, but nobody outside of finswimming knows names like Kabanov, Figini, Senanszky or Poschart.
Additionally we need a platform to present international big competitions as live events like in other sports (World Championships in Football, Olympic Games,…)
What would you suggest to federations/confederation that could help your statistics project?
The biggest and most important website in Finswimming is the one of CMAS. The structure is good and all general information can be read, but the responsible person of the live competition data is too slow and not exactly enough. Especially the record lists, the tables all athletes and coaches looking permanently, are not completely correct.
Furthermore the CMAS should develop an uniform of english electronic protocol, which every nation can use to evaluate their own.
Visualizza questo post su Instagram
Help us! Send information and results about Finswimming events and championships!