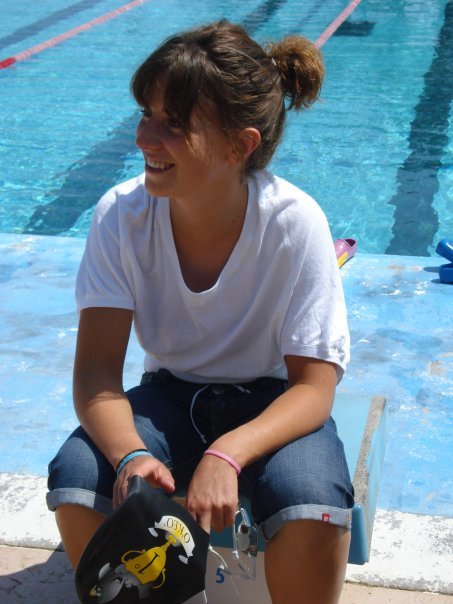 Name:
Marine
Surname:
Grosjean
Sex: M / F :
F
Date of Birth:
02/02/1989
Place of Birth:
Longjumeau (91) France
Nationality:
Française
City of Residence:
Nantes
State of residence:
France
Occupation:
Student
Start practice Finswimming (year):
2003
Start competitions Finswimming (year):
2004
Club:
PPO (Paris Palme Olympique)
You train in 25mt or 50mt Swimming Pool?
50m/25m
Who is your coach?
Hugues brilhault since this year!! but Thierry Henri was my first coach, for 4 years, and I always think about him when I swim! 😉 I don't forget Cyril Chatelet my trainer for 2years, and with who I did beautiful results.
Favorite races:
800 IS/800sf/1500sf/6km and relais
Favorite athlete (past or present, also as a point of reference):
I don't have a favorite athlete, but I'm really impressed of people who give all in a race, even if they don't win all the time, but the emotion at the end is very intense. Of course Stefano Figini, brothers Tsouronakis, sven Lutzkendorf, Andrea Nava… etc.
Your best results (summary):
World Champion in 2007 (BARI Italie) on 6km
National or European/World Records (also in the past):
No records
Do you prefere individual races or relays?
Individual
Do you prefere races in the pool or long distance?
I like both, because sensations are diferent, I prefere pool for the competition spirit, it's more intensive because U see swimmers at each 50m. And I prefer long distance for the "tactic" during the race.
What is your specialty (distance, surface or immersion)?
6km, and 1500sf
What kind of fins or monofins do you use? (Brand)
I don't find yet the perfect one for me… I think monobloc is better for me, but for now I swim with a starfin.
What other sports have practiced before?
I have praticed hanball, basket ball, dance, gymnastique rythmique et sportive…
Other sports now?
Yes
If yes which ones?
hand-ball
Year of entry into the National Team (Absolute or youth, leave blank if you never entered):
2005
National Team last year (if you're still in leave blank):
Do you have a website or that of your team?
http://www.marine-grosjean.com
Hobbies:
drawing, design, student life! 😉
Other comments:
Thanks a lot for all U do for fin swimming! You made a great web site! I hope to swim with Ur team this year, and I promiss to reconize u… :s ciao ciao!

Nome:
Marine
Cognome:
Grosjean
Sesso: M / F
M
Data di nascita:
02 Febbraio 1989
Luogo di nascita:
Longjumeau (91) France
Nazionalità:
Francese
Città di residenza:
Nantes
Stato di residenza:
Francia
Occupazione:
Studentessa
Inizio pratica Nuoto Pinnato (anno):
2003
Inizio gare Nuoto Pinnato (anno):
2004
Club:
PPO (Paris Palme Olympique)
Ti alleni in vasca da 25mt o da 50mt?
vasca corta… ci ha reso forti nelle virate e apnee! L'unico pregio
Chi è il tuo Allenatore?
Hugues Brilhault dall'anno scorso!! Ma Thierry Henri è stato il mio primo allenatore, per ben 4 anni, e penso sempre a lui mentre sto nuotando! 😉 Per non dimenticare Cyril Chatelet mio allenatore per 2 anni, con cui ho ottenuto dei fantastici risultati.
Gara preferita:
800 IS/800 np/1500 np/6km e le staffette.
Atleta preferito (passato o presente, inteso anche come punto di riferimento):
Non ho un atleta preferito, ma mi impressionano le persone che danno tutto in gara, anche se non vincono ogni volta, ma le emozioni alla fine sono molto intense. Poi ovviamente Stefano Figini, i fratelli Tsouronakis, Sven Lutzkendorf, Andrea Nava… etc.
Vostri migliori risultati (riassunto):
Campionessa del Mondo nel 2007 (BARI Italia) nella 6km
Record Nazionali o Europei/Mondiali (anche passati):
Nessuno.
Preferite le gare individuali o staffette?
Individuali senza dubbio!
Preferite le gare in piscina o di fondo?
Mi piacciono entrambe, poichè le sensazioni sono completamente diverse, mi piacciono le gare in piscina per lo spirito, sono più intense perchè puoi vedere gli atleti nuotare ogni vasca. e mi piacciono le gare di fondo per la loro tattica!
Quale è la vostra specialità (distanze,superficie o immersione)?
6km, e 1500 np
Che tipo di pinne/monopinne usi?
Ancora non ho trovato quella che fa per me… Penso che quelle monoblocco siano adatte a me, anche se attualmente uso le Starfin.
Quali altri sport avete praticato in precedenza?
Hanball, basket ball, danza, poi ginnastica ritmica e artistica…
Praticate altri sport attualmente?
Si.
Se si quali?
Hand ball.
Anno di ingresso nella Squadra Nazionale (Assoluta o Giovanile, lasciare in bianco se non sei mai entrato):
2005
Ultimo anno in Squadra Nazionale (se siete ancora lasciare in bianco):
Avete un vostro sito internet oppure quello della squadra?
http://www.marine-grosjean.com
Hobbies:
Disegnare e la vita da studente
Altri commenti:
Grazie per tutto ciò che fai per il Nuoto Pinnato! Hai fatto un sito stupendo! e spero di venire a nuotare con voi quest'anno… :s ciao ciao!
Help us! Send information and results about Finswimming events and championships!