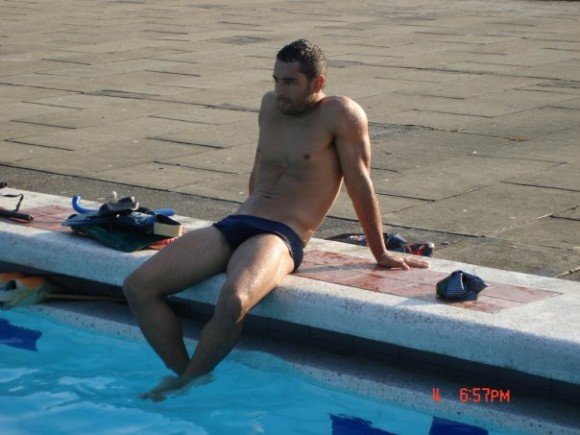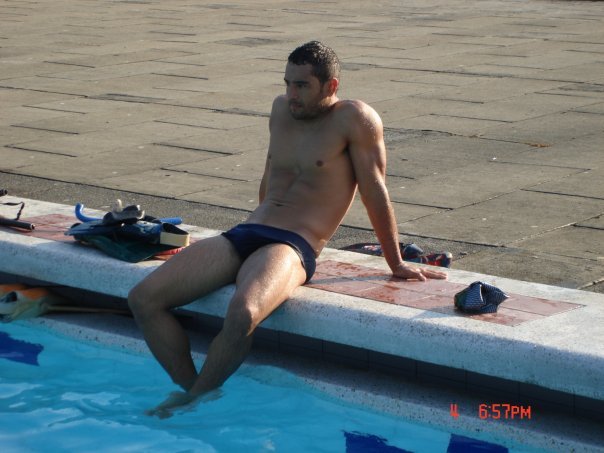 Name:
Alvaro Hugo
Surname:
Polo Lozada
Sex:
M
Date of Birth:
29-09-1978
Place of Birth:
Cali,Colombia
Nationality:
Colombian
City of Residence:
Paris France and Cali colombia
State of residence:
Ille de France
Occupation:
Lawyer-Student
Start practice Finswimming (year):
1992
Start competitions Finswimming (year):
1993
Club:
Paris Palmes Olimpique
You train in 25mt or 50mt Swimming Pool?
Boths
Who is your coach?
In france is Hugues Brilhault and in colombia is Fabio Delgado.
Favorite races:
is very dificult to chosse one, but i think 200 meters sf
Favorite athlete (past or present, also as a point of reference):
Well worldwide i had the oportunity to see great swimmers like Koudriaev Konstantin, Akhapov Sergei, and at the present of course Figini Stefano, Pavel Kabanov, and now Sven Lutzkendorf. So of course it's imposible to say only one cause all of them are great swimmers. But in Colombia im also big fan of swimmers like Mauricio Fernandez, Leonidas Romero and I'm very proud of my little brother Juan Ocampo, he is so fast, he is only 15 years old and was in the final of 200sf in Saint Petersburg. I know he will be great in the future.
Your best results (summary):
Ok so in World Championships: in Junior World Championships in Bratislava i was 5th place in 100is, In 1998 in Cali world championship i was 4th place in 100 sf, in Bari 2007 i was 4th place in 4+200sf and 3th place in 4+100sf, now this year in Russie i was 2nd place in 4+200sf.
National or European/World Records:
in all my life as a swimmer i had colombian record of: 50 ap, 50 sf, 100 sf, 200 sf, 400 sf, 400 is and 800 is, i also had continental records in 50 ap,50 sf, 100 sf and 200 sf.
Do you prefere individual races or relays?
i love to swim all kind of races,i love the sensation before i jump in the pool, individual races i do it for me but in relays is a team, i am just one part, but you swim and you "die" for your team,( of course after the last world championship i love to swim relays)
Do you prefere races in the pool or long distance?
In colombia i swim sometimes long distance speccially if is in Saint Andreas only cause i love to swim in the ocean, but 100% i prefer in the pool, long distance is to boring for me.
What is your specialty (distance, surface or immersion)?
ohh this is very hard question, i begun swimming sprint when i was junior but then i had a accident and i had a operation in my knee so i stop for 4 years(2000-2004) so i came back and i swam inmersion 400 mts and 800 mts, and now since last year i am living in france so i prepare 100sf, 200sf and 400sf for the last season.
What kind of fins or monofins do you use? (Brand)
i use Rocketfins.
What other sports have practiced before?
i loved to play football but in 2000 i brake my knee during an universitary competition and i couldnt walk for 6 months, and i had to stop finswimming for long long time, but during this time i finish law school so in a way was ok, so at the moment the only football that i play is PES in the playstation.
Other sports now?
not really
If yes which ones?
only finswimming regular but i do scuba diving when i have the oportunity.
Year of entry into the National Team (Senior or youth, leave blank if you never entered):
my 1st junior world championship was in 1993 in France.
National Team last year (if you're still in leave blank):
Do you have a website or that of your team?
my team in france have a web site: http://www.paris-palmes-olympique.fr/ and my team in colombia have a web site also: http://www.colombiafinswimming.com/
Hobbies:
go to cinema, go to restaurants and i love to travel so now in europe is a great oportunity to visit diferent places everytime i can.
Other comments:
Well after i was retired of finswimming i really miss this sport and the people i meet, so now i have the oportunity to swim again and is great for me to have this, because i love to swim i have a lot of fun.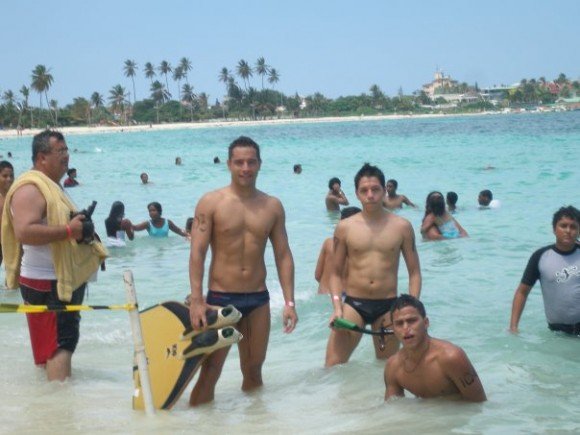 Nome:
Alvaro Hugo
Cognome:
Polo Lozada
Sesso:
M
Data di nascita:
29-09-1978
Luogo di nascita:
Cali,Colombia
Nazionalità:
Colombiana
Città di residenza:
Parigi Francia e Cali Colombia
Stato di residenza:
Ille de France
Occupazione:
Studente in Giurisprudenza
Inizio pratica Nuoto Pinnato (anno):
1992
Inizio gare Nuoto Pinnato (anno):
1993
Club:
Paris Palmes Olimpique
Ti alleni in vasca da 25mt o da 50mt?
Entrambe
Chi è il tuo Allenatore?
In Francia è Hugues Brilhault e in Colombia è Fabio Delgado.
Gara preferita:
E' molto difficile sceglierne una, ma penso i 200 metri sf
Atleta preferito (passato o presente, inteso anche come punto di riferimento):
Beh in giro per il mondo ho avuto lìopportunità di vedere i più grandi campioni come Koudriaev Konstantin, Akhapov Sergei, e quelli attuali come Figini Stefano, Pavel Kabanov, e ora Sven Lutzkendorf. Quindi è impossibile sceglierli poichè sono tutti grandi campioni. Ma in Colombia sono un grande fan di Mauricio Fernandez, Leonidas Romero e sono molto orgoglioso del mio fratellino Juan Ocampo, è molto veloce, ha solo 15 anni ed è riuscito ad entrare in finale nei 200sf a San Pietroburgo. So che diventerà un grande atleta in futuro.
Vostri migliori risultati (riassunto):
Campionati del Mondo: ai Mondiali Giovanili di Bratislava nel 1995 fui Quinto nei 100imm, Nel 1998 a Cali per i Mondiali Assoluti fui quarto nei 100 sf, a Bari 2007 quarto nella 4x200sf e terzo nella 4×100 sf, e in Russia quest'anno sono arrivato secondo nella 4x200sf.
Record Nazionali o Europei/Mondiali (anche passati):
Nella mia carriera ho avuti i record sui: 50 ap, 50 sf, 100 sf, 200 sf, 400 sf, 400 imm e 800 imm, ho anche i record Sud Americani nei 50 ap,50 sf, 100 sf e 200 sf.
Preferite le gare individuali o staffette?
Mi piacciono tutte le distanze, amo la sensazione che si prova prima di tuffarsi in acqua, le gare individuali sono per me stesso, ma le staffette per tutta la squadra, io sono solo una parte di essa, ma tu nuoti e "muori" per la tua squadra, (ovviamente dopo i Mondiali appena conclusisi mi piace ancora di più fare le staffette)
Preferite le gare in piscina o di fondo?
In Colombia nuoto qualche volta le gare di fondo, specialmente se si disputano a San Andrés poichè mi piace nuotare nell'Oceano, ma sicuramente sono le gare in piscina che preferisco, il fondo è noioso per me!
Quale è la vostra specialità (distanze,superficie o immersione)?
Ahh davvero una domanda difficile, ho iniziato a fare le gare veloci da Junior ma poi ho avuto un incidente e mi sono dovuto operare alle ginocchia e sono stato fermo per 4 anni (2000-2004) quindi quando sono tornato ho ripreso a nuotare i 400 mt e 800 mt in immersione,e adesso che vivo in Francia sto preparando i 100sf, 200sf e 400sf per l'ultima stagione.
Che tipo di pinne/monopinne usi?
Uso le Rocketfins.
Quali altri sport avete praticato in precedenza?
Nel 2000 mi piaceva giocare a calcio, ma durante una gara universitaria mi sono rotto le ginocchia e non ho potuto camminare per 6 mesi, e ho anche dovuto smettere di nuotare per molto tempo, ma durante questio anni ho finito la scuola di legge, quindi per il momento l'unico "Calcio" a cui gioco è PES :).
Praticate altri sport attualmente?
Non molto!
Se si quali?
Regolarmente solo il Nuoto Pinnato, ma ogni tanto mi piace anche fare immersioni subacquee.
Anno di ingresso nella Squadra Nazionale (Assoluta o Giovanile, lasciare in bianco se non sei mai entrato):
Il mio promo Campinoato Mondiale Giovanile è stato nel 1993 in Francia.
Ultimo anno in Squadra Nazionale (se siete ancora lasciare in bianco):
Avete un vostro sito internet oppure quello della squadra?
La mia squadra in Francia ha questo sito: http://www.paris-palmes-olympique.fr/ e quella in Colombia: http://www.colombiafinswimming.com/
Hobbies:
Andare al cinema, mangiare nei ristoranti , viaggiare quindi ora che sono qui in Europa vado in qualsiasi posto.
Altri commenti:
Quando mi sono dovuto fermare per tutti quegli anni sentivo davvero la mancanza del Nuoto Pinnato e di tutta la gente che avevo incontrato. Ora ho l'opportunità di nuotare ancora e questa è una cosa molto speciale per me perchè amo questo sport.
Help us! Send information and results about Finswimming events and championships!